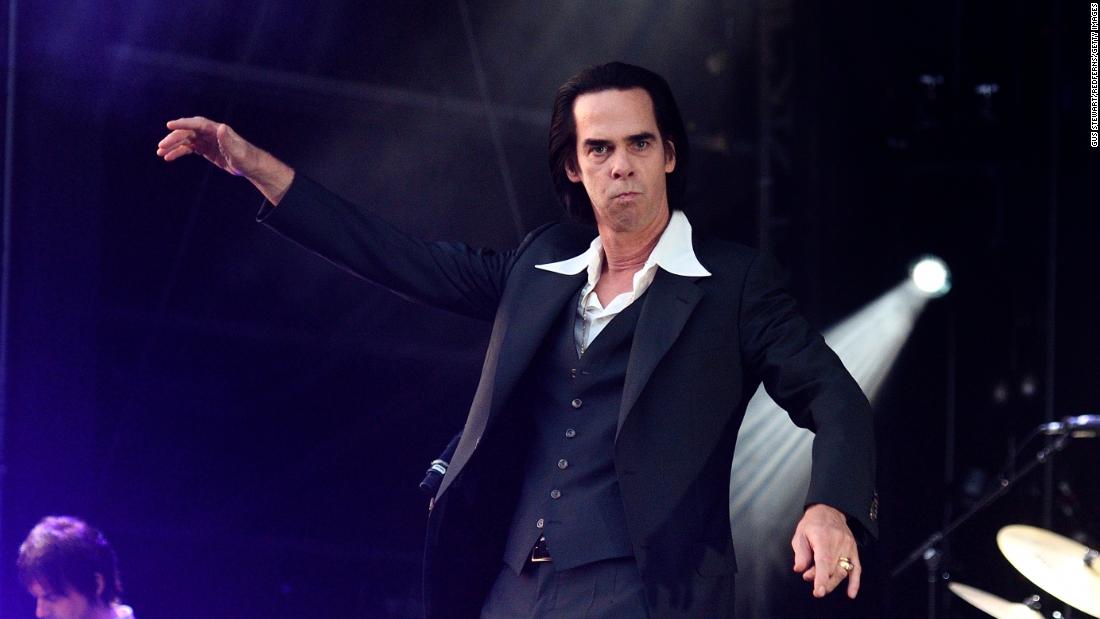 "You can ask me anything," Cave, 61, told readers in announcing the project last September. "This is going to be between you and me. Let's see what happens."
What happened surprised even Cave: a biblical flood of letters, 100 per week, he says. Some are typical fan's notes, asking about his writing process or why he admires Elvis. But others seek spiritual solace. Cave has been asked how he deals with evil, how he coped with the death of his teenage son and whether he still believes in God.
A Turn Towards Communion
In many ways, The Red Hand Files is a companion to Cave's current tour, "Conversations with Nick Cave," which features spontaneous exchanges between the artist and his audience. He questions the questions, tells stories and answers questions from the crowd.
For a performer who once cultivated an aloof and even menacing persona, Cave's turn towards communion, on stage and online, is striking.
Delivered weekly to inboxes around the world, The Red Hand Files offer a cyber-sanctuary to talk about hard things, Cave says, the issues that "require a bit of room, or space, or even nuance. "
"I think people have a hunger to engage in alternative ideas about all sorts of things," Cave said in Issue # 2 of The Red Hand Files, "and this is evidenced by the kind of questions that have been sent to me . "
" I also receive a lot of mail these days from people in difficult situations and I feel that I have some experience that I can pass on. "
Some of that experience was born in tragedy. The 15-year-old son, Arthur, died in a fall from a seaside cliff in Brighton, England, spinning his family into whirlpools of grief After Arthur's death, Cave said he sought salvation in his work and the community of fans who gather to
"I felt very acutely that a sense of suffering was the connective tissue that kept us all together," Cave continued in Red Hand Files # 2. "Without being hyperbolic, this feeling of collective love has saved my life . It is a transcendent circle that just seems to grow stronger. It is religious. "
Religiously literate rock n 'roll
Cave may look like an odd fit for the mantle of Postmodern Internet Guru, baring shirts, at times, he looks like a fallen preacher, or the nihilistic Bible salesman in a Flannery O'Connor story
Onstage, he snarls and struts like a shaman. his furious energy and raucous shows.A former addict, Cave once said he could "write the Michelin Guide to Detox Centers."
Cave's music, too, can be dark, his first big hit was a murder ballad.
But Cave has long been one of rock'n'roll's most religiously literate songwriters. He keeps a bust of Jesus and a Bible open to the Gospel of John on his piano. Cave himself wrote an introduction to Mark's Gospel for a British publisher in 1998. He is the rare rock star to open a love song with the line, "I do not believe in an interventionist God / But I know, darling, that you do . "
In his punk rock days, Cave says, he was obsessed with the Gothic drama and wrathful God of the Old Testament, channeling His energy to hiss and spitting the world. God spoke in a language written in bile and puke, "Cave said. "
But then, Cave says, he took the Gospels
" I slowly reacquainted myself with the Jesus of my childhood, that eerie figure that moves through the Gospels , the man of sorrows, and it was through him that I was given the chance to redefine my relationship with the world, "Cave wrote in 1996.
" The voice that spoke through me now was softer, sadder, more introspective. "
'I felt ministered to'
Raised Anglican, Cave said he has all but given up on organized religion, yet still longs for a world infused with magic and awe.
Like a lot of artists, his spirituality is idiosyncratic and undogmatic. He believes people are hard-wired for transcendence, which can be accessed through creativity and imagination.
"We are spiritual and transcendent beings," he said in Issue # 28 of The Red Hand Files. Our lives have meaning, he continued, and our actions have "vast implications on the well-being of the universe."
But Cave, 61, who now lives with his wife Susie Bick in Brighton and Los Angeles, seems more interested in seeking than arriving at a conclusive theology. Chris Goodman, Cave's media representative, said the musician was not available for an interview;
Jason Woodbury, an editor at the online music magazine Aquarium Drunkard, said the cave answers to the fan's letters are pastoral but not doctrinaire.
"He's not pushing the Nick Cave Rules," Woodbury said. "He's giving people the tools to dig in and find the answers for themselves. " class="media__image" src="http://cdn.cnn.com/cnnnext/dam/assets/130414115857-02-coachella-story-top.jpg"/>