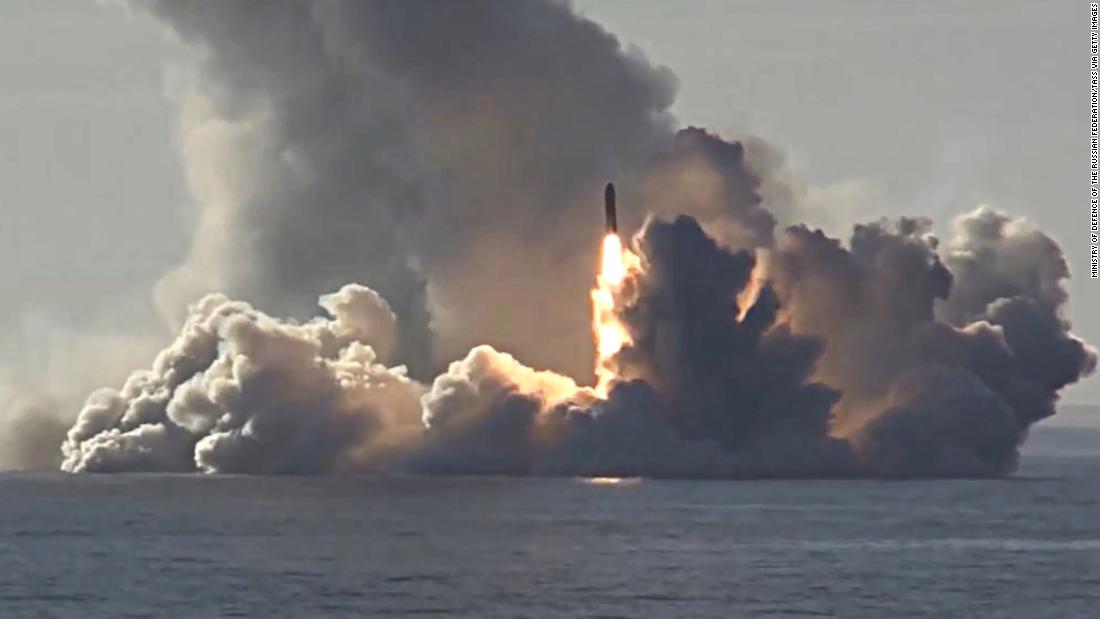 This vision is to strike a broad-ranging deal that would limit the arsenals of not only US and Russia, but also China for the first time.
While the talks were taking place in Geneva, the clock continued to run on the last remaining major nuclear deal between the US and Russia, which controls 90% of the world's nuclear warheads
The New Start Treaty, signed by Presidents Barack Obama and Dmitry Medvedev in 2010, restricts US and Russia to 1,550 deployed strategic nuclear warheads across 700 delivery systems. While Russia has signaled an interest in renewing the pact, Trump has previously described it as a "bad deal," and there is no sign that it will be extended beyond 2021
, when it expires.
If the New Start deal is scrapped, experts fear returning to a world without limits on nuclear stockpiles. The US and Russia could quickly ramp up the number of warheads deployed on the sea and on land. With their nuclear ambitions unchecked, it would be almost impossible to convince other nations, like China, to exercise restraint.
In the absence of transparency, experts said, worst-case scenario thinking could contribute to an even more hostile geopolitical landscape. With global powers on tenterhooks, the risk of a miscalculation – and a knee-jerk deployment of a nuclear weapon – would increase.
"This would be the first time since 1972 that US and Russia, formerly the Soviet Union, would not have limits on their arsenals. It would make a difficult and dangerous relationship all the more difficult to manage, and could cause "
" It would be a world that we have not seen in a long time. "
'A poison pill '
In January, Trump announced his intention to seek a new nuclear treaty and offered a vision of what would come next if he could not strike a deal.
"We can negotiate a different agreement, adding China and others, or maybe we can not," said Trump during an address to the nation. "In what case, we will outspend and out-innovate all others by far."
But by all accounts, 19 months is not enough time to negotiate a brand-new agreement – even if China was on board, which
"We oppose any country's attempt to make an issue out of China on arms control and will not participate in any negotiation for a trilateral nuclear disarmament agreement," Chinese Foreign Ministry spokesman Geng Shuang said during a press briefing in May
"This proposal for a trilateral agreement is, in fact, a poison pill designed to provide a pretext to allow the [New Start] treaty to expire," Kimball told CNN. Security Advisor John Bolton – a longstanding hawk and critic of arms control agreements – also has some observers concerned that the White House's true goal may be to find an exit strategy for a nuclear pact that it sees as constraining and outdated.
President Vladimir Putin, who has suggesting Russia would be open to renewing the New Start Treaty, warned that letting the pact lapse could risk an arms race
"The Cold War was a bad thing … but there were at least some rules that all participants in international communication more or less adhered to or tried to follow. Now, it seems that there are no rules at all, "he told the Financial Times last month.
The ditching of nuclear treaties by the Trump administration has already contributed to the weakening of the norms, and casts other multilateral agreements, like the Nuclear Nonproliferation Treaty (NPT) in doubt, experts said.
Under the NPT, one of the world's most important foundational nuclear treaties, nuclear weapon states – the US, Russia, China, France and the UK – but if US and Russia abandon a deal designed to reduce their nuclear stockpiles, it will become much harder to make nuclear weapons. to make non-nuclear states stick to their commitments, according to Tytti Erästö, a researcher for the SIPRI Nuclear Disarmament, Arms Control and Nonproliferation Program
"Without these treaties you can not even speak a
"For new potential proliferators, the weakening of international norms and the legitimacy crisis in the Nuclear Nonproliferation Treaty may remove some of the normative restraints to developing nuclear weapons . I do not think any country would go to develop a nuclear weapon just because of this, but it could impact decisions in the future about whether or not to acquire them. "
One eye on China
China is steadily building and modernizing its arsenal, according to Zhao Tong, a fellow at the Carnegie-Tsinghua Center for Global Policy in Beijing
"It's a trend that makes US increasingly worried," said Zhao to CNN
Still, at an estimated 290 warheads, according to the Arms Control Association, China's nuclear arsenal is only a fraction of the US and Russia.
Zhao warned that a collapse of the New Start Treaty would have significant implications for Chinese nuclear thinking
"The Chinese embrace deep distrust against the US, and against Russia to some extent, even under current conditions," Zhao said. "It is very easy for the Chinese expert community to develop exaggerated threat perceptions."
And that fear would ultimately drive
Arms control agreements supply parties with a basic sense of certainty about each other's capabilities. They help mitigate misunderstandings among big powers, build transparency measures through mutual verification and contribute to confidence building
Without them, the effect is a much more uncertain world with fewer rules regulating the world's the most dangerous weapon
The possibility of the New Start treaty's demise offers a window into the atmosphere that could exist without any nuclear limits at all
"If there is no arm control, the nuclear communities would stop talking, "Zhao said.
" In that environment I am afraid the appreciation and spirit of cooperative security would be lost. "