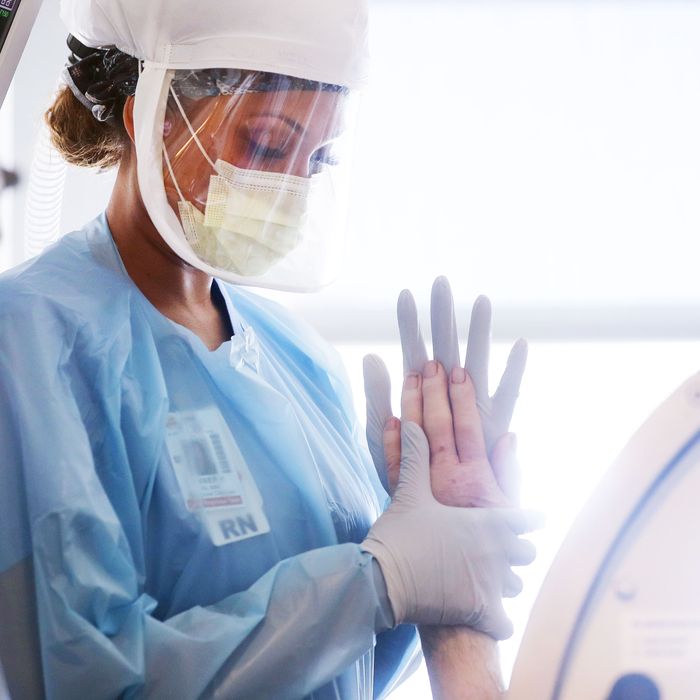 Photo: Mario Tama / Getty images
In the spring, Michel Schultz had a particularly difficult patient with COVID-19. The man, who was about 60 years old, had come to the emergency room short of air a few days earlier. Although oxygen levels were quite low, he refused medication and wanted to leave the hospital in Indiana without a mask. The nurse and some of her colleagues tried to persuade him to stay, but the man insisted he was fine. In addition, he said, COVID-19 is a fake virus that hospitals use to make money. As he put on his MAGA hat and walked out the door, she worried about what would happen next. Would you infect others? Would he go to bed and not wake up?
"We have never had people who thought we were lying to them," said Schultz, who asked to be identified by her father's name to protect her privacy. It seems that society no longer trusts us.
On November 14, a South Dakota nurse named Jody Doring wrote a viral thread on Twitter about her experience in treating COVID patients in the intensive care unit, who called the virus a hoax ("Their last dying words are, 'This can't be "And her story has been criticized as extreme (and possibly untrue), she highlighted a real crisis in hospitals across the country, especially in the red states, where governors have denied mandates and false allegations by the president. for the virus are accepted as the gospel. In interviews with Cut 12, nurses describe working with patients who deny COVID, from those who simply refuse treatment to those who spit or cough and recite conspiracy theories about the virus.
Nurses have been regarded as the most trusted professionals for almost two decades – now they are breaking sacks for those who think they are lying about the pandemic. Back in the spring, they were applauded as heroes, but many have reached a turning point and want to leave a job they love.
Like any nurse who works in intensive care units and emergency rooms, LeToya Edmonds is used to dealing with people who are angry and deny. But while these are normal emotional reactions to a serious diagnosis, Edmunds says the hostility and distrust of her COVID-19 patients in Lawton, Oklahoma, feels different.
"Many of them are making a political problem," she said. "It's really hard to take care of such patients."
Gigi Perez, a nurse at a hospital in Lancaster, California, recently treated a man for a non-COVID-related injury that plagued her by wearing an N95. "You have to be a Democrat or something," he said, telling her to take off her mask. "People are brainwashed impossible and choose to trust a politician over people who are fighting the pandemic," she said.
Before each shift, Edmunds prepares for the intensive care unit, who watches Fox News and spits out right-handed talk points. While many skeptics believe in the virus, once diagnosed, others double. About a month ago, she politely asked a 70-year-old man with COVID-19, who had a fever and diarrhea, to cover his mouth. He pointed to the TV where she was watching Fox and told her "the news says these masks don't work" before coughing in her face. A Florida-based respiratory therapist also described coughing and spitting on patients who had not taken the virus. seriously. "It makes my blood boil," says Edmunds. "It's just a constant battle."
Even if patients do not directly deny the reality of a virus that has killed more than 250,000 Americans, many patients and their families still do not take it seriously. Nurses say they have never seen so much repulsion, from people challenging test results, refusing treatment such as plasma therapy or oxygen, to leaving the intensive care unit before recovering. Carla, a family nurse in North Carolina who asked for a nickname for fear of losing her job, said a patient told her "I don't believe in all this" and "I don't do this nonsense" after she said she should to stay at home for 14 days. She refused other procedures because of the requirement to test for COVID-19, which they called "stupid" and refused to do so.
"I cried a lot," she said. "It's almost like a grieving process. I grieve the loss of what I had before: patients who listened to me and trusted me. "
Of course, the consequences are real. In April, Edmunds had a patient in his 80s who did not believe his diagnosis of COVID-19 and refused any treatment. Although she developed a mild fever, the family supported her decision to leave the hospital and place her in a retirement home; she died two weeks later.
Nurses are struggling with how to deal with their resistant patients. Some say they oppose misinformation in essence with science – this is how the virus works, this is how we treat it – and if there is repulsion, they do not commit or tell the patient that they respectfully disagree. Others take a more emotional approach, trying to change their minds with candid descriptions of all the death and suffering they have seen. And if the situation is terrible, they are even more direct. Alex Inkhamheng, a nurse in Amarillo, Texas, told the few COVID-19 patients he treated who wanted to leave the intensive care unit that they would not survive even a few steps without oxygen. "Sometimes you have to be brutally honest," he said, because "some patients will die for what they believe."
Earlier this month, Ashley Bartholomew decided to be brutally honest with a COVID-19 patient in intensive care who criticized "fake news" about sea trucks and downplayed the virus. As this was the last shift of the nurse in a hospital in El Paso, she left her professional security. Through tears, she told the approximately 50-year-old man that he was the only patient she had treated that day who could speak and that she had never seen so many deaths in her last 10 years at work.
His attitude began to change, she later wrote in a viral thread, especially when she took him out of the intensive care unit past patients who were on ventilators. But her response was an act of despair, a last-ditch attempt to convince someone of their own illness, not a sustainable or necessarily moral path forward (usually "we don't tell our patients that another patient has just died," she wrote on Twitter. ). And although Bartholomew had already reported to his hospital that her family was moving to another city because of her husband's work and she needed a break from nursing, the incident confirmed her choice and made her feel hopeless.
She is not the only one ready to give up. Nurses already had high turnover rates before the pandemic, but now health workers say their mental health has dropped to its lowest rate. Some have even dealt with colleagues who downplay the severity of the disease: A few weeks before the election, Inkhamchen said a fellow nurse told him that COVID-19 was not a big deal – "just like the flu" and that hospitals were inflating mortality to profit; Perez is currently in quarantine because one of her colleagues did not wear a mask on his nose and was then positive for the virus. And the aggression they face is not limited to hospitals: nurses say it's awful to watch people in their community gather in bars and restaurants. They faced death threats to speak out, and a nurse told me that her colleague had been asked to leave the store because her scrubs made customers "uncomfortable"; another said she was called a "bitch" after asking a woman to put on a mask at Home Depot.
Edmunds is battling depression and says the last few months have been the most challenging of her career. With the second wave crashing hard in her hospital, she is forced to juggle too many patients and worries that if someone dies on her watch, she may have to deal with a family that doesn't even believe COVID -19 is real. She no longer raises her hand to change the time for overtime; she is too overwhelmed and worried about the situations she may find herself in.
For the first time in 22 years of work, Nurse Carla, of North Carolina, is considering leaving. She regularly calls her family to cry on the phone. "I just don't know if I want to do this anymore," she said. "Which really disappoints me because I love my job."
Many of the nurses I spoke to are predicting a wave of resignations. (In Pennsylvania, 700 nurses recently went on strike, citing short-term staff, PTSD, and burnout.) This would burden the system, which is already on the brink and means patients can be treated by health care professionals who are not necessarily trained to handles COVID-19. But Bartholomew says the blame should fall on political leaders and businesses like Fox News, spreading the kind of misinformation that has turned hospitals into battlefields for guerrilla warfare.
"The disinformation pandemic, at the height of the COVID pandemic, is too severe for the nurses to fight," she said. "It feels like a slap in the face for calling us heroes in the spring and not believing us in the fall."