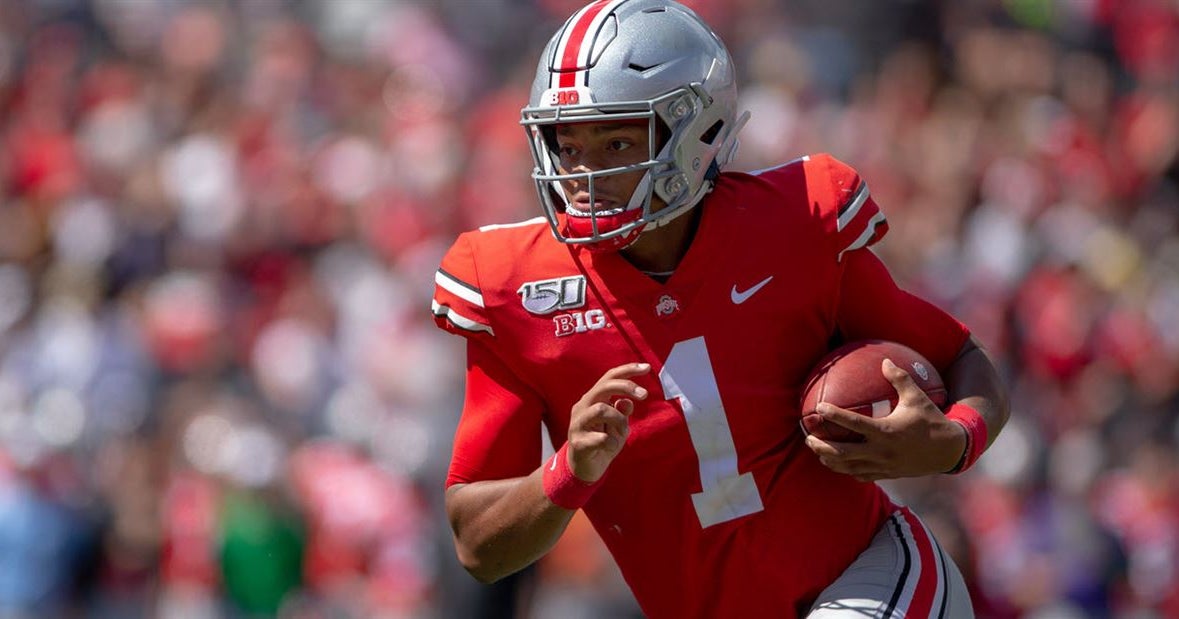 After the longest off-season in the history of Ohio football, fifth-ranked Bucky will host Nebraska at the opening of the 2020 season at noon on Saturday. FOX will be covered by national television.
As always, we have our feature for ten pressing questions to prepare you for today̵
7;s game. We will give the answers in our column "First look". Here we are:
* 1. How did Justin Fields improve and develop his game? – Fields is the best recipient of return votes from the Heisman Trophy for 2019. He recorded 51 touchdowns (41 passes, 10 rushes) against just three interceptions a year ago. We're not sure what exactly he can do to take his game to another level, but we'll be watching him closely against Nebraska.
* 2. Who is next in the quarterback after Fields? – OSU coach Ryan Day has not tilted his hand to see if senior Gunnar Hawk or freshmen CJ Stroud or Jack Miller will be the first on the bench to replace Fields. If the Buckeyes – Huskers' 26-point roll-over favorite – can create a big lead, you know that Day will want to get the Fields out of next week's biggest game against Penn State. So there is some intrigue.
* 3. What will the retiring tandem of Master Teague and Trey Sermon look like? – Will Tigg take the start, or will Sermon call – who was called to move from Oklahoma after Tigg injured Achilles last March? How will the carriers break down? How will they be used? Many questions will be answered with this one on Saturday.
* 4. How will the OSU quartet with four wide receivers affect the game? – OSU had an unprecedented contribution from four national top 100 wide-range receivers in the 2020 class with Jaxson Smith-Njigba, Julian Fleming, Gee Scott Jr. and Mookie Cooper. Of course, Chris Olave, Gareth Wilson and Jameson Williams are back and think they will start against Nebraska. There is only one football. Who will catch him?
* 5. How does the new OSU offensive line hold up? – On the left in the fight with Tyrer Munford is healthy, the American Wyatt Davis is again on the right guard and center Josh Myers is also back. Nicholas Petty-Frere takes the right and Harry Miller joins the left guard. What roles will Paris Johnson and Dowand Jones play for Bucky?
* 6. Can OSU exert pressure without Chase Young? – Young was an all-American defensive end for Bucky last year. Zack Harrison seems to have the highest ceiling, but Tyrek Smith, Jonathan Cooper and others are eager to step out of Young's shadow and become a leader in defense. Nebraska's QB Adrian Martinez threw three interceptions in last year's game in Lincoln, which OSU won 48-7. Can Bucky chase him again?
* 7. Who plays in defense in defense? – Defensive points for a team are wide open. It looks like Tommy Tojiai and Antwain Jackson can start with backups from 2019. Haskell Garrett, who is recovering from a gunshot wound, and Taron Vincent is returning from injury. Garrett and Vincent were not mentioned in the status report on Friday, so maybe they are really ready to play.
* 8. What does the OSU protection circuit look like? – Kerry Coombs replaced Jeff Huffley as coordinator, although co-coordinator Greg Mathison returned for a second year to OSU staff. Do Buckeyes retain one kind of high safety created last year, or return to the standard look with two corners and two safety?
* 9. Is Sean Wade ready for prime time? – Wade was the corner slot of OSU last year. He is back to play around the corner and show he deserves to be in the first round of the NFL Draft, just like Jeff Okuda and Damon Arnett were last year. Nebraska WR Wan'Dale Robinson figured to give Wade a few punches on Saturday (or not).
* 10. Which freshmen are ready to make an impact this season? – Everyone gets a free season to participate in this strange year, so coaches will not hesitate to play the younger ones early and often.
* Bonus question №1: What will the atmosphere be like at Ohio Stadium without fans? – There will be less than 2,000 people in the Horseshoe on Saturday, as the Big Ten start their season without fans in the stands. Only the families of the coaches and players will be allowed to attend, as well as support staff and a few media members (including me, starting my 26th full-time season).
* Bonus Question № 2: Is Ohio a contender for the national championship? – Clemson and Alabama had a few weeks to present themselves as clear frontrunners in the playoffs for the College of Football. Ohio can't compete in a single game, but the Buckeys still have to take care of their business against a team they prefer to suffocate. Has Nebraska improved? Is Ohio ready for the new season? You will get all these answers and much more after the game on Saturday.
We will let you know how they are doing. Enjoy the game and check out Bucknuts.com later today for full coverage.
Do you have your copy of Undisputed Champions? Click here for order information.