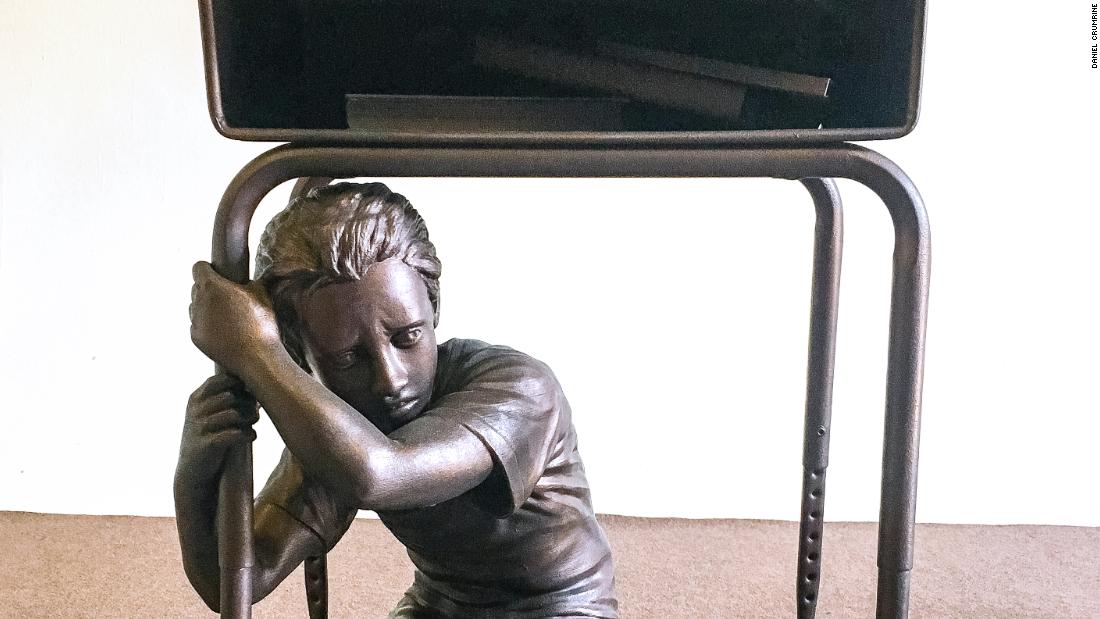 The events highlight the long-term impact of living through school shootings.
"The Parkland survivors have been heroes in their advocacy efforts since the tragedy, but the deaths of these students are a sobering reminder that they are not only young advocates, but also trauma victims and gun violent survivors," said Micheal Anestis , associate professor of psychology at the University of Southern Mississippi and co-chair of the American Association of Suicidology.
The National Center for PTSD estimates that 28% of people who have witnessed a mass shoot post-traumatic stress disorder or PTSD, and about a third develop acute stress disorder.
Michael Dorn, the executive director of Safe Havens International, points out that there have also been cases between the attack at Columbine High School and a number of suicides involving former students as well as family members of victims killed in the attack, adding that although the pattern was seen, it is challenging to attribute it to mass shooting.
Despite the statistics, and the disheartening of recent events, surviving and mass shooting does not mean that children, teens and communities are permanently damaged. David Schonfeld, director of the National Center for School Crisis and Bereavement, and a pediatrician at the Children's Hospital Los Angeles
The recovery, Schonfeld insists, should be the expectation and the common goal to be achieved. It starts with understanding that communities' world views have been challenged.
Children who have lived through mass shootings, as well as children in communities nearby and far away, can experience what Schonfeld calls the loss of the assumptive world upon learning about the events.
"There are certain assumptions that people every day make that they feel safe and secure in a world that has a lot of dangers in it," he said. When a child hears or lives through an event that challenges the notion of safety in a school, it makes them question all the other assumptions they have about the world, Schonfeld added.
The loss of the assumptive world, on top of the actual trauma, can offset a cascade of events.
Immediately after a traumatic event, Schonfeld explained, children and teens may have difficulty concentrating and sleeping. This in turn may lead to a decline in academic performance, which then means that children and teens experience academic failure for the first time. This may cause additional distress and lead to some irritability.
The irritability can then lead to impaired social interactions, making people more suspicious and less trusting, he added, with repercussions for years.
The second year may be harder
Schonfeld explained that the aftermath of surviving a mass shooting or a similar traumatic effect should be thought of in terms of grief and trauma.
For those who have lost a loved one, the grief can persist for years, with people continuing to reprocess those loses as they move forward in their lives, he said.
"Then there's a trauma from being involved in an event where a threat was made against your life," he added. " data-src-mini="//cdn.cnn.com/cnnnext/dam/assets/180214191628-08-florida-school-shooting-gallery-0214-small-169.jpg" data-src-xsmall="//cdn.cnn.com/cnnnext/dam/assets/180214191628-08-florida-school-shooting-gallery-0214-medium-plus-169.jpg" data-src-small="http://cdn.cnn.com/cnnnext/dam/assets/180214191628-08-florida-school-shooting-gallery-0214-large-169.jpg" data-src-medium="//cdn.cnn.com/cnnnext/dam/assets/180214191628-08-florida-school-shooting-gallery-0214-exlarge-169.jpg" data-src-large="//cdn.cnn.com/cnnnext/dam/assets/180214191628-08-florida-school-shooting-gallery-0214-super-169.jpg" data-src-full16x9="//cdn.cnn.com/cnnnext/dam/assets/180214191628-08-florida-school-shooting-gallery-0214-full-169.jpg" data-src-mini1x1="//cdn.cnn.com/cnnnext/dam/assets/180214191628-08-florida-school-shooting-gallery-0214-small-11.jpg" data-demand-load="not-loaded" data-eq-pts="mini: 0, xsmall: 221, small: 308, medium: 461, large: 781″ src="data:image/gif;base64,R0lGODlhEAAJAJEAAAAAAP///////wAAACH5BAEAAAIALAAAAAAQAAkAAAIKlI+py+0Po5yUFQA7″/>