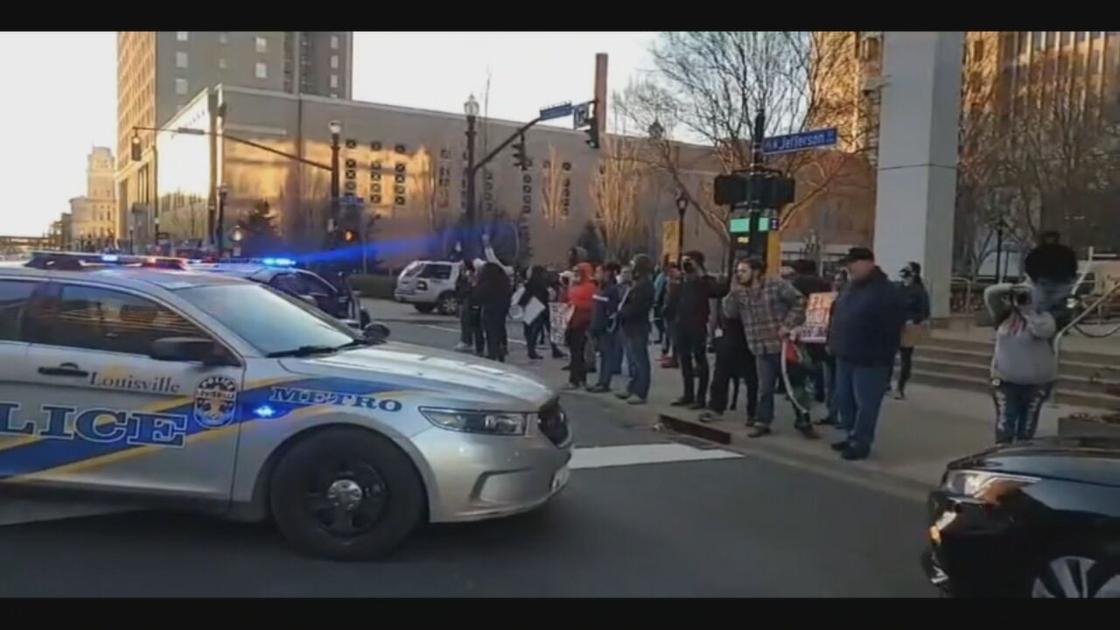 LOUISVILLE, Ky. (WDRB) – Three people were arrested during a racial justice protest in downtown Louisville on Saturday, police said.
A caravan of protesters began traveling through the city at about 2 p.m., Louisville subway police spokesman Alicia Smiley said in a statement. A member of the LMPD live on the department's Facebook page as officers conducted multiple traffic stops in the caravan, which included protesters in cars, motorcycles and on foot.
Officers stopped the caravan near 7th Street and Liberty Street and 1
1th Street and Broadway, according to Smiley's statement. A crowd of protesters, some carrying placards demanding justice for Louisville resident Breona Taylor, also formed around 4th and Jefferson Streets.
A total of three people were arrested by police, Smiley said. Two have been charged with disorderly conduct and obstructing a highway, and the other has been charged with threatening, terrorizing and obstructing a highway, according to the arrests they cited.
Officials also issued several quotes for traffic violations, including reckless driving, lack of insurance, red lights and incorrect turns, Smiley said.
"The LMPD continues to monitor the caravan's activities to ensure that they are conducted in a manner that does not pose safety concerns for both caravan participants and residents," police spokesman Beth Ruf said in a statement Sunday. "… The LMPD respects the right to protest and undertakes to work with any entity or individual to determine a way forward that allows freedom of expression in a way that does not create public safety concerns."
This story can be updated.
Copyright 2021 WDRB Media. All rights reserved.
Source link