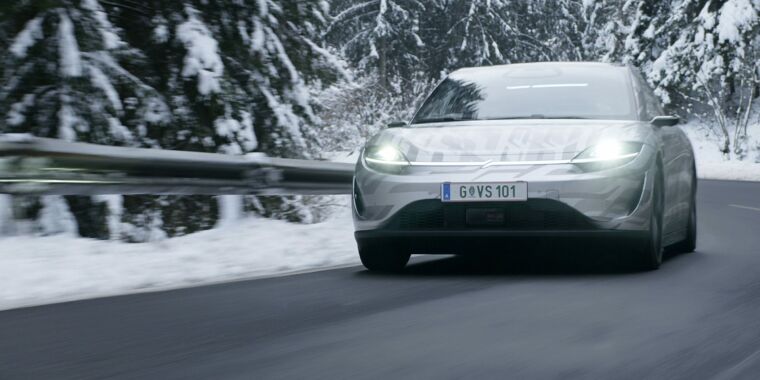 Remember the Sony Vision-S from CES in 2020? It goes back to 2021

and there is more than one.

In fact, Vision-S has been released in the real world for testing.

I'm starting to get the impression that Sony is more serious about this EV than we originally thought.

The front is dominated by this screen, which works across the width of the dashboard.

Rear seat passengers have their own screens.

A closer look at the dash.

Sony

Side view cameras take the place of conventional mirrors.

Sony
Perhaps the focus of last year's CES was the surprising electric concept car of the Sony Vision-S. At the time, we thought that the Vision-S – which looked like a cross between a Porsche Taycan and Lucid Air – was primarily meant to showcase all the different activation technologies it contained, from sensors to entertainment. Well, Vision-S is back for this year's CES, which isn't happening in Las Vegas, and it looks like the project may be a little more serious than we ever thought.
As you will see in the embedded video, Sony is testing the Vision-S, both on a test track and on public roads in Austria. Why Austria? There is Magna Steyr, a contract carmaker that currently manufactures vehicles for other car companies, including Mercedes-Benz G-Class, BMW 5 Series, Jaguar I-Pace and Toyota Supra. And Magna Steyr is one of Sony's partners in Vision-S, along with first-class automotive suppliers Bosch, Continental and ZF, software company Elektrobit Automotive, the mapping company HERE, as well as Nvidia, Blackberry (manufacturer of QNX) and Qualcomm.
Over the past year, the number of Vision-S sensors has risen from 33 to 40, with Sony experimenting to see how it can improve the car's 360-degree safety system. The company is also working on the interior to make it a more relaxing place, according to Izumi Kavanishi, senior vice president of AI's robotics group AI.
A hint for a future production car comes from Frank Klein, president of Magna Steyr. "I'm very happy to see that Vision-S was just a starting point for our collaboration," Klein said in the nearly nine-minute video. "We see that high-tech companies like Sony are having a big impact on the mobility of the future.
Elsewhere on the Vision-S CES website, Sony is discussing the Vision-S 'platform, including the fact that it can be used for a diverse range of vehicles. It probably didn't escape Sony's attention that the market is ready to throw cubic dollars at anyone who has even half an idea for a new electric car – hopefully you'll be able to read a road test of a new battery on Sony's Ars Technica pages before too long.
Picture of a list from Sony
Source link