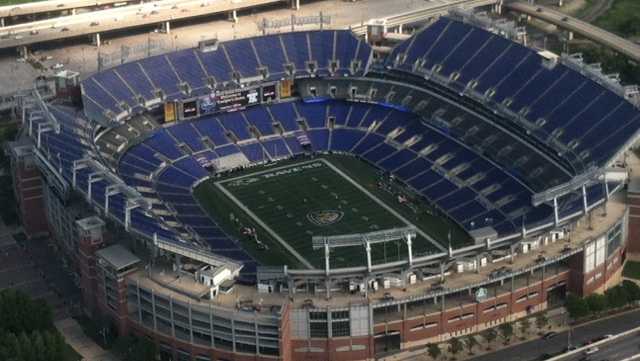 Maryland's sports stadiums and outdoor venues can now accommodate spectators – with a 10% capacity limit. Larry Hogan and Maryland Health Secretary Robert Neal issued orders Friday to update the limits of safe capacity for outdoor sports and leisure facilities while maintaining face coverage requirements and strict public health protocols. "With our core health indicators low and stable, we are taking steps to allow more spectators, including fans of the Baltimore Ravens and the Washington football team, to attend safely in the stands," Hogan said in a statement. to comply with all mitigation measures and public health protocols that keep us safe, including wearing masks and practicing physical distancing. "OUTDOOR SPORTS: The governor̵
7;s order limits outdoor spectators to 10% of the total capacity, including M&T Bank Stadium and FedEx Field, which would amount to just over 7,000 spectators at M&T Bank Stadium.The Ravens sent a statement to 11 News, saying: "Today we received Governor Hogan's order to update the limits for outdoor sports facilities, which will allow up to 10% of the total capacity.We contacted the office of Mayor (Jack) Young to discuss the governor's order ora Hogan. A mayor's spokesman sent a statement to 11 News, saying: "We are aware of the governor's executive order and are working with community stakeholders to adjust these new adjustments safely to all Baltimore City residents and visitors." OUTDOOR ENTERTAINMENT PLACES: The governor's order limits employment to 10% for outdoor entertainment establishments with a total capacity of more than 2,500. PERSONS COVERAGE AND PUBLIC HEALTH PROTOCOLS: The governor's order requires face coverage for all sports and entertainment establishments. According to the order of the health secretary, the places must follow the protocols for social distancing, and the social gatherings of the place – such as reversing – are forbidden. Read the governor's order Read the order of the health secretary
ANAPOLIS, MD –
Maryland's sports stadiums and outdoor venues can now accommodate spectators – with a 10% capacity limit.
Gov. Larry Hogan and Maryland Health Secretary Robert Neal issued orders Friday to update safe capacity limits for outdoor sports and entertainment facilities while maintaining face coverage requirements and strict public health protocols.
"With our low health scores low and stable, we are taking steps to allow more spectators, including fans of the Baltimore Ravens and the Washington football team, to attend safely in the stands," Hogan said in a statement. "It remains important to continue to follow all mitigation measures and public health protocols that keep us safe, including wearing masks and practicing physical distancing."
OUTDOOR SPORTS PLACES: The governor's order limits spectators to outdoor sports fields to 10% of total capacity, including M&T Bank Stadium and FedEx Field.
That would amount to just over 7,000 spectators at M&T Bank Stadium.
The Ravens sent a statement to 11 News, saying: "Today we received Governor Hogan's order to update the restrictions on outdoor sports facilities, which would allow up to 10% of the total capacity. We contacted the mayor's office ( Jack) Young to discuss Governor Hogan's order. "
A spokesman for the mayor sent a statement to 11 News, saying: "We are aware of the governor's executive order and are working with community stakeholders to adjust these new adjustments safely for all Baltimore City residents and visitors."
OUTDOOR ENTERTAINMENT: The governor's order limits employment to 10% for outdoor entertainment establishments with a total capacity of more than 2,500.
PERSONAL COVERAGE AND PUBLIC HEALTH PROTOCOLS: The governor's order requires covering the faces of all outdoor sports and entertainment venues. According to the order of the health secretary, the places must follow the protocols for social distancing, and the social gatherings of the place – such as closing the queue – are forbidden.
This content was imported from Twitter. You may be able to find the same content in another format or find more information on their website.