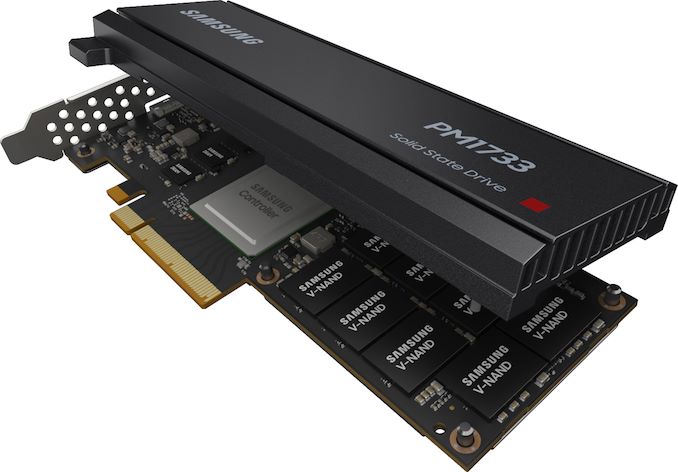 Almost a year after their first roadmap for PCIe 4.0 SSDs is outlined, Samsung's first two models are in mass production: the high-end PM1733 and the high-end PM1735. Details of these new models are slowly coming out, but Samsung is now talking about three major enhancements to previous SSDs, in addition to the stark productivity gains provided by PCIe 4.0. The list of enhancements includes failed disk reliability enhancement (FIP) technology, SSD virtualization technology to ensure consistent performance for VDI and similar use cases, and V-NAND machine learning technology to predict and test NAND performance
Fail-In-Place
Samsung Failure Technology (FIP) promises to allow the SSD to deal with hardware failures that would otherwise be fatal to the SSD, until failure of the entire NAND dies. For a maximum capacity of 30.72TB PM1
733, the device can continue to operate more or less normally, even with the loss of one of its 512 NAND flash units. The device will scan for damaged or lost data, reconstruct it and move it to a still working flash chip and continue to operate with high bandwidth and QoS. Essentially, it's like a RAID-5/6 array operating in degraded mode, rather than going offline. It is still reasonable to eventually replace the SSD after it has experienced such a severe malfunction, but Samsung's FIP technology means that the replacement can be done at the convenience of the operator, rather than causing the problem to stay immediately.
Adding a failed location doesn't change the fact that PM1733 and PM1735 have endurance ratings of 1 and 3 drives respectively per day. The overall life cycle is still comparable to the previous generation of disks, but the likelihood of premature death for reasons other than normal NAND wear is significantly reduced.
Virtualization
Samsung then added virtualization technology. PM1733 and PM1735 SSD. Samsung has implemented optional NVMe virtualization features based on single root I / O virtualization (SR-IOV), allowing a single NVMe SSD controller to provide multiple virtual controllers (up to 64 in the case of Samsung devices). Each virtual controller can be assigned to a different VM running on the host system and provide storage for that VM without overhead processors – the same as if the entire disk was assigned to a single VM with a PCIe gateway. The storage capacity of each SSD can be flexibly allocated to different namespaces, which in turn can be attached to the corresponding virtual controller.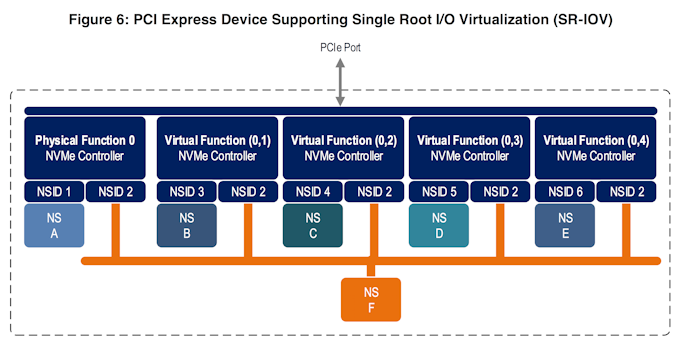 Machine Training
The third technology introduced by Samsung is V-NAND Machine Training. The company does not disclose the exact details of how they use machine learning, but merely says that it is used to predict and analyze the characteristics of flash cells, including by detecting variations between schema patterns. With 3D NAND, it is increasingly difficult to get around one-size-fits-all strategies for cell programming, reading, and error correction. Even tracking the P / E cycles each block went through is not enough; there can be a significant difference between the layers at the top and bottom of the 3D stack and from one die to another. Samsung hardly turns to machine learning strategies to deal with these complexities. The new capability will guarantee consistent performance and improved reliability of today's TLC V-NAND-powered drives, but its value will increase dramatically in the case of QLC V-NAND-based drives.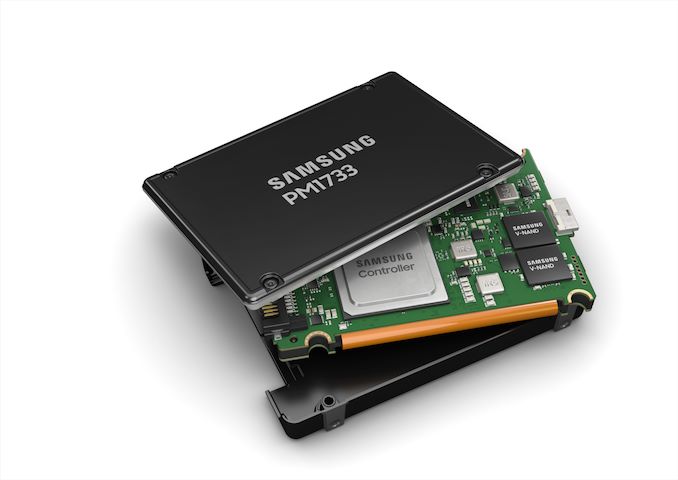 The first devices that can take advantage of the new features are already being delivered to stakeholders. PM1733 and PM1735 are based on a common hardware platform. The PM1733 is rated for 1 DWPD and offers a capacity of up to 30.72 TB, while the PM1735 has more over-provisioning and lower usable capacities to reach 3 DWPD. Both models are available in either U.2 or PCIe add-on factors. The U.2 format factor adds a few more capacity options, while add-on versions have a PCIe 4.0 x8 interface to allow 25% higher consistent read performance (at other loads, PCIe 4.0 x4 is fast enough for Not to be an obstacle).
Related reading:
Source: Samsung
Source link