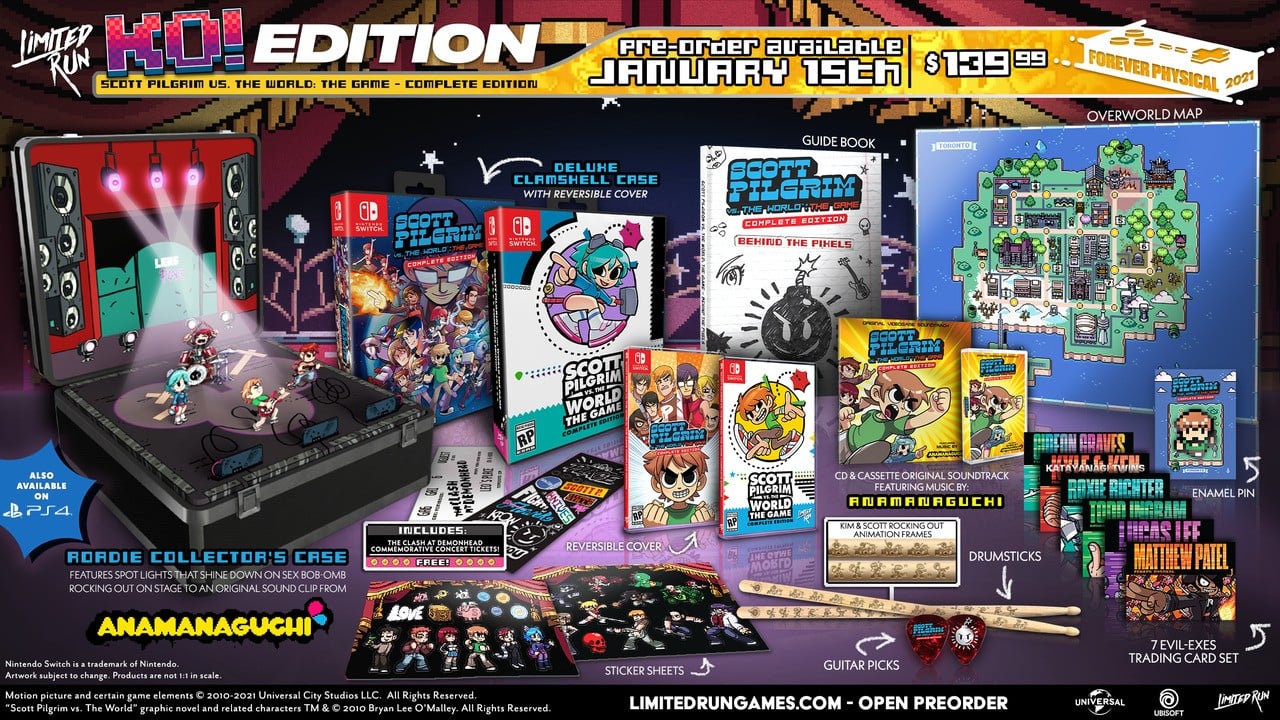 Hello again. A friend of a friend. Scott Pilgrim vs. the World: The Game – based on the hugely successful series of graphic novels, not Edgar Wright's film of the same name – finally gets a physical edition and is fiiiine. Featuring music by Anamanaguchi and visual images based on the original work of artist Brian Lee O'Malley, Scott Pilgrim vs. The World: The Game was originally released in 2010 and is due to be re-released on Switch on January 14th.
To celebrate the start of the game, Limited Run Games, Universal and Ubisoft have compiled a physical edition "Standard Edition", "Classic Edition", which includes a clamshell box, a concert ticket, a card, a soundtrack and a sticker sheet and a "KO Edition"
;. which will come with everything from the Classic Edition, plus a hardsell roady case that features a pop-up stage, working lights and Anamanaguchi music, as well as drumsticks, a guitar, a trade kit, an enameled pin and a guidebook.
The pre-order period for all three editions lasts from January 15 to February 28. The standard edition sells for $ 34.99 (~ 26 pounds), the classic edition for $ 54.99 (~ 40.50 pounds), and the KO edition for $ 139.99 (~ 103 pounds). All versions of the game are "Complete Edition", which includes all DLC from the original game.
Are you excited to play (or replay) Scott Pilgrim against The World: The Game? Do you have good memories of beating Ramona's evil exes? Come on, tell us about how your bread thickens in the comments.