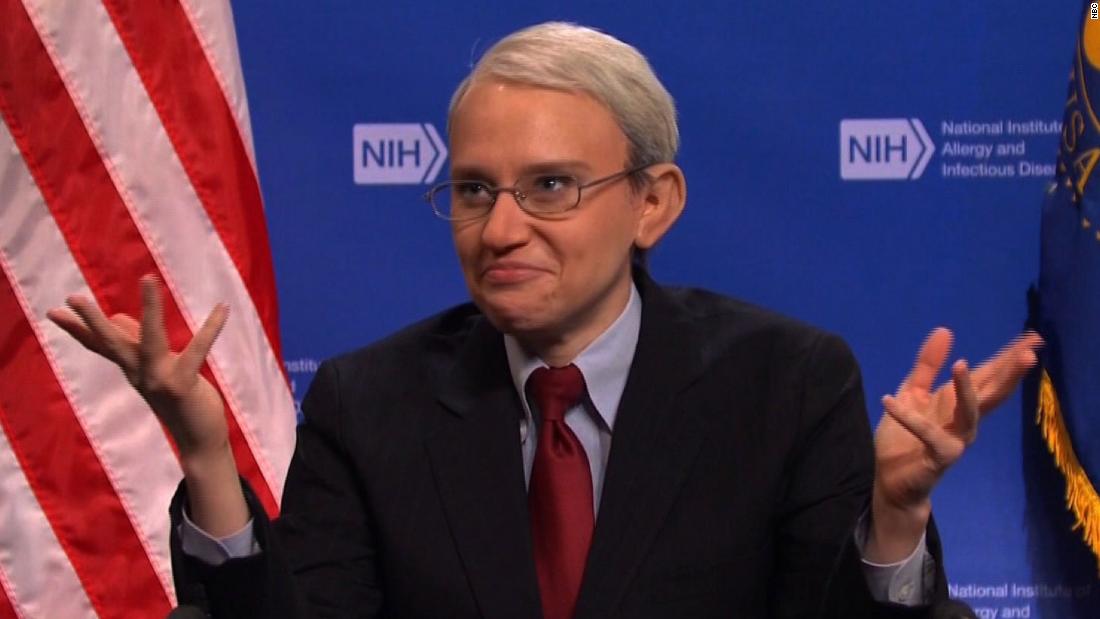 Kate McKinnon – played by Dr. Anthony Fauci – opened the show this weekend with ridiculous everyday scenarios that tried to answer questions about the latest federal guidelines on mask requirements for fully vaccinated people.
"This is your boy, Fauci, Purel's patron," Fauki told McKinnon.
"A lot of people had questions like, 'What does this mean? What the hell are you talking about? Is this a trap?' McKinnon's fauci said. "To clarify things, I found a few doctors at the CDC who went to the theater and asked them to resume different scenarios to demonstrate the proper behavior of the mask."
The first scene, "The man enters the bar,"
; takes place when the woman greets a masked man in a bar and the man asks if he should remain masked indoors.
"Actually, you don't," the woman replies, and the man continues to take off his mask. "Well, as long as you're vaccinated," the woman continued.
The man says he hasn't been vaccinated, and his wife says it's "bad."
"Well," he says, "I'm going to the bar at 11 o'clock in the morning, did you really think I was exhausted because it's yours."
"You're right. I deserve Kovid," she says.
"I don't know if this is the right export," Fauci told McKinnon.
McKinnon's Fauci then stressed that people should be honest and respectful about their vaccination status.
Other confusing instruction scenes include a businessman on a plane asking for another alcoholic drink from a flight attendant, two people having dinner on a first date, and two subway passengers, all of which eventually turn into wild misconduct.
As for the front line workers, another scene shows a customer entering a store and an employee telling them to wear a mask.
"But I don't need a mask. I'm gay," the client said.
"And I'm an ally. Come in. The first hot dog is on me," the official replied.
Then McKinnon's Fauci says, "No, that's not how it works!"
Saturday's episode hosted actor and comedian Keegan-Michael Key, with musical guest Olivia Rodrigo.
Source link