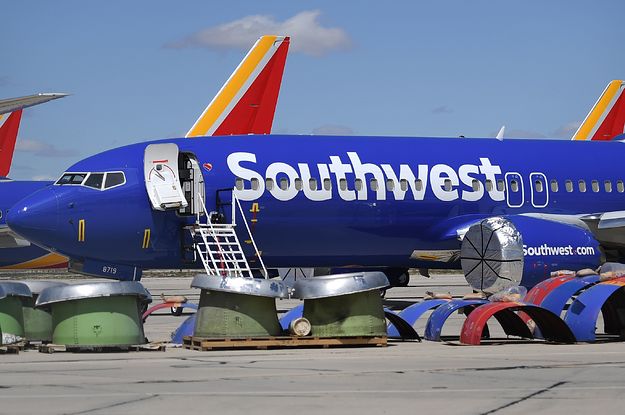 A Southwest flight attendant has sued the airline after claiming two pilots secretly recorded video of the plane's bathroom on an iPad during a flight.
The alleged incident occurred on Flight 1088 from Pittsburgh to Phoenix on Feb. 27, 2017. According to court records reviewed by BuzzFeed News, about two and a half hours into the flight, Capt. Terry Graham requested that a flight attendant accompany co-pilot Ryan Russell in the plane's cockpit while Graham left to use the bathroom, as Southwest policy required two crew members in the cockpit at all times.
When Renee Steinaker, a flight attendant, entered the cockpit, she says she saw an iPad mounted to the plane's windshield that showed Graham in the plane's bathroom. Steinaker claims that when she asked Russell, who also had a clear view of the iPad, whether the camera was live streaming from the bathroom, he stated that it was and told her it was hidden where "no one would ever find it." The lawsuit alleges that Russell asked Steineker not to tell anyone about the camera or recordings because they were on the "downlow."
"That was horrific to her," Ron Goldman, an attorney for Steinaker, told BuzzFeed News. [1
9659004] Russell allegedly told Steinaker that cameras were a new feature on Southwest Airlines' 737-800s, and were in all bathrooms on the flight.
Southwest said in a statement to BuzzFeed News that the airline "does not place cameras in the aircraft's lavatories. "
According to court documents, Steinaker took a photo of an iPad and a video of Graham using her cellphone, which was later shared with other flight attendants.
Upon returning from the bathroom , Steinaker claims Graham tried to hide the iPad, and refused to answer her questions about it. Both Graham and Russell allegedly disembarked the plane immediately upon landing in Phoenix, which Steinaker says was a violation of protocol.
Graham also left a loaded firearm unattended in the cockpit, the lawsuit alleges.
Steinaker says in the lawsuit that crew members, including herself, and passengers, had used the bathroom during the flight.
She says she and other crew members reported the incident to the Southwest and asked the airline to obtain a feed from the iPad and cockpit voice recordings before Graham and Russell flew the plane to its next destination.
Goldman, Steinaker's attorney, told BuzzFeed News that Steinaker immediately reported the incident to a supervisor at the gate hoping that the airline would take action.
"We believe that did not happen, "he said.
Steinaker claims she was directed by a supervisor to keep the incident to herself because" if this got out, if this went public, no one, I mean no one, would ever fly our airline again, "according to court documents.
The two pilots later flew the plane to Nashville with a new set of flight attendants.
Southwest said in a statement to BuzzFeed News that safety of employees and passengers is an "uncompromising priority."
"At this time, we have no other comment on the pending litigation," the statement said.
Both Graham and Russell are still employed as pilots by Southwest, according to the lawsuit. Calls and emails to their attorneys were not returned Saturday.
The lawsuit was filed by Steinaker and her husband, David Steinaker, who is also a Southwest flight attendant. It alleges that both the couple, as well as other flight attendants aboard flight 1088, have since been subjected to retaliation in the form of harassment and monitoring, including increased drug and alcohol tests and performance audits.
Steinaker, the lawsuit alleges, has a physical and mental distress as a result of the incident and the airline's response to it.
"My primary concern, in addition to the safety of crew members, is that flight safety was compromised in my opinion," Goldman said. "This is not a playground for perverts."
Goldman said it's unclear when or if the actual iPad and its contents were obtained by Southwest, and that he and his client were "very concerned that the cockpit voice recorder and the original iPad may have been compromised. "
Steinaker and her legal team have yet to see the iPad or its contents, which Goldman said is expected to happen during the discovery phase of the trial in November.
In the meantime, Goldman said , he's disappointed with how Southwest Airlines is chosen to handle Steinaker's allegations, calling the company's response "abysmal."
"In my opinion, they are treated as some sort of joke or a prank between frat boys," Goldman said. "I have no indication that they have taken this as seriously as it needed to be."
Source link