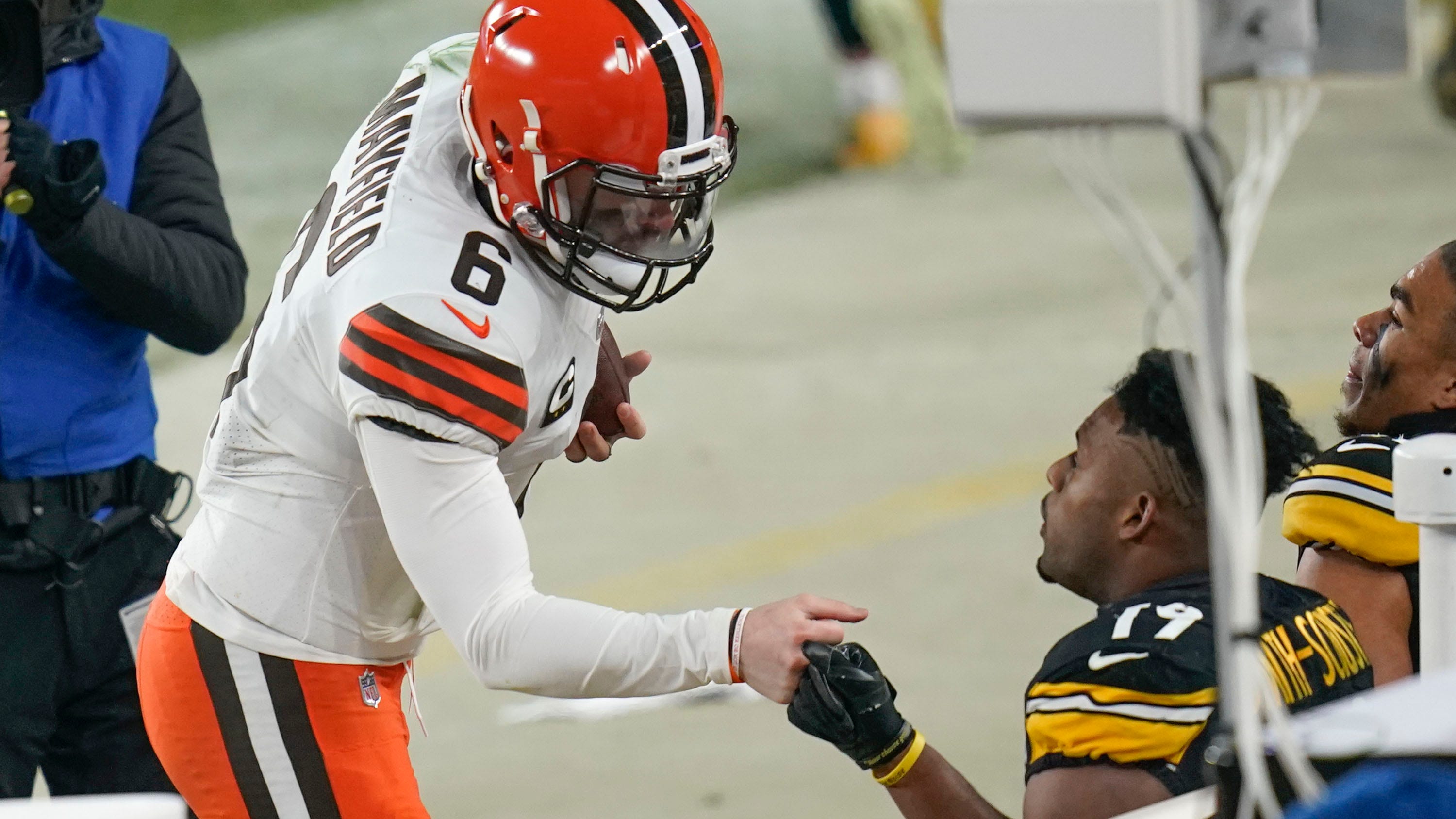 Sunday night's Cleveland Browns playoffs focused on the Pittsburgh Steelers' JuJu Smith-Schuster, sparked by his infamous "Browns Are Brown" remark earlier this week, but the fourth-year receiver seemed to stick to those comments even after losing 48-37.
After leading Cleveland to its first game in the divisional round in 1995, Browns quarterback Baker Mayfield rushed back into the locker room shouting "Browns is Browns."
BAKON 'BAKER MAY MEET AN EMERGENCY OFFENSIVE LINEAR HOURS BEFORE WINNING
Once in the locker room, Jarvis Landry mocked Smith-Schuster's popular dance "Corvette, Corvette"
; TikTok, while the rest of the team treated the song as their unofficial anthem for the celebration.
Smith-Schuster was chosen by the Browns after he first set a target in the wild card round when he told reporters he didn't mind playing Cleveland.
CLICK HERE FOR MORE SPORTS COVERAGE ON FOXNEWS.COM
"I think they're still the same Browns teams I play every year," he said at the time. "I think they're nameless gray faces. They have some good players on their team, but at the end of the day I don't know. Browns is Browns."
After being proven wrong on Sunday night, Smith-Schuster did not back down, saying that Browns had a good game.
"I'm not sorry I said what I said," he said at his post-game press conference. "I said brown is brown." They went out and played a hell of a game. "
Click here to get the FOX NEWS app
"There were games where you lost some, you won some, and today was not our night," Smith-Schuster continued. "Hopefully the same browns show up against the next opponent and they go out there and do the same thing they did tonight and have a great game."
While this may not be the most exquisite concession speech, the Browns are happy to move on to the AFC division round, where they will travel to deal with the defending Super Bowl champions, the Kansas City bosses, on Sunday at 3:05 p.m. .ET.
Source link