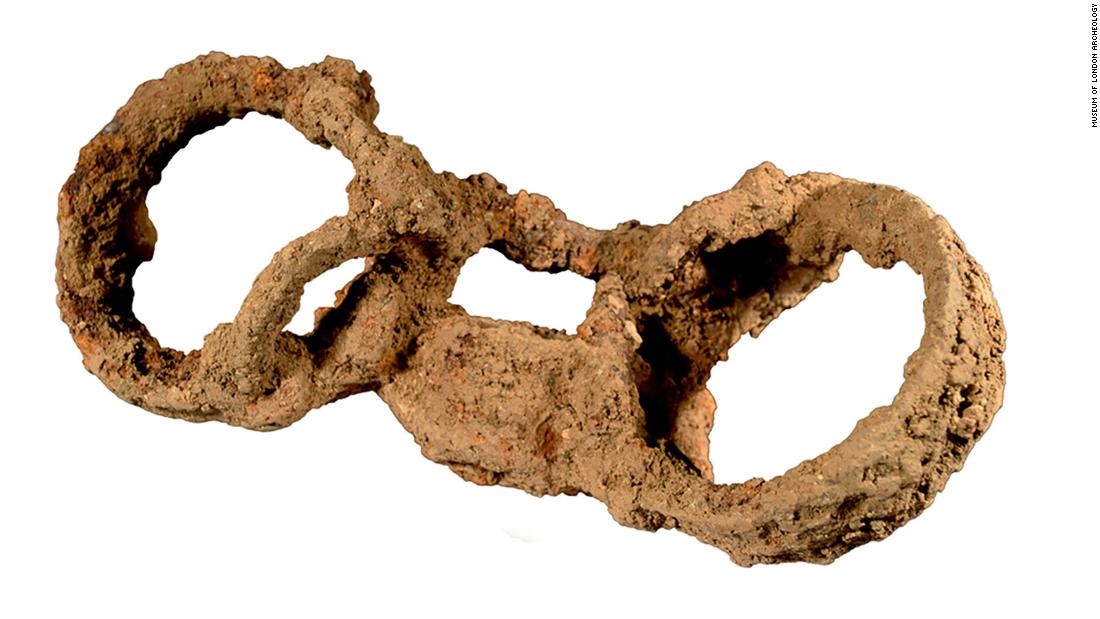 The elderly man is buried in a ditch with iron shackles locked around his ankles, the Museum of London Archeology (MOLA) announced on Monday.
The remains were found by builders working to expand a home in Great Custerton, in the central English county of Rutland, archaeologists from MOLA said, adding that this was the first time this type of detention had been found on a skeleton from Roman Britain.
Radiocarbon dating has revealed that the remains date between 226 and 427 AD, according to a press release. The Romans occupied large parts of Britain between 43 BC and around 410 AD.
"We know that the Roman Empire relied heavily on slave labor. It was the basis of the empire throughout history. And that was true of Roman Britain. We have a lot of literary evidence of wood, writing tiles and stone carvings,"
; said Chris Chinak.
,,
human osteologist or bone specialist at MOLA.
"What we haven't found before is the physical remains of a man who we think we strongly suspect may have been a slave."
Chink said it was impossible to say definitively that the man was enslaved, but he was the best candidate found in Britain.
In addition to the shackles, which are of a certain type associated with slavery elsewhere in the Roman Empire, the man is buried slightly on the right side, with the left side and arm slightly up the slope, suggesting that he was thrown into a ditch, and not buried in a suitable grave, MOLA said.
The individual was also buried just 200 feet from a Roman cemetery, which is "perhaps a conscious effort to separate or differentiate himself from the people buried in the cemetery," according to a press release.
Given that shackles are complex iron and would be an expensive item to manufacture or purchase, Chink said it was unlikely to be easily discarded.
"For living carriers, shackles were both a form of imprisonment and a method of punishment, a source of discomfort, pain and stigma that may have left scars even after removal," said Michael Marshall, a MOLA specialist, in a statement.
"However, the discovery of shackles in a funeral suggests that they may have been used to exercise power over dead bodies as well as over the living, suggesting that some of the symbolic effects of imprisonment and slavery may continue even after death."
A small number of burials from Roman Britain have heavy iron rings around the limbs, but they may have been forged on the bodies and probably could not be worn during an individual's lifetime, the team added.
According to the statement, some written sources at the time mentioned that the dead were abstained to stop them from "rising and affecting the living."
A detailed examination of the skeleton showed that the man had led a "physically demanding life," archaeologists said.
"A bone spur on one of the bones in the upper leg may have been caused by a traumatic event, possibly a fall or a blow to the thigh, or a life filled with excessive or repetitive physical activity," the statement said. "However, this injury was healed at the time he died, and the cause of his death remains unknown."
Source link