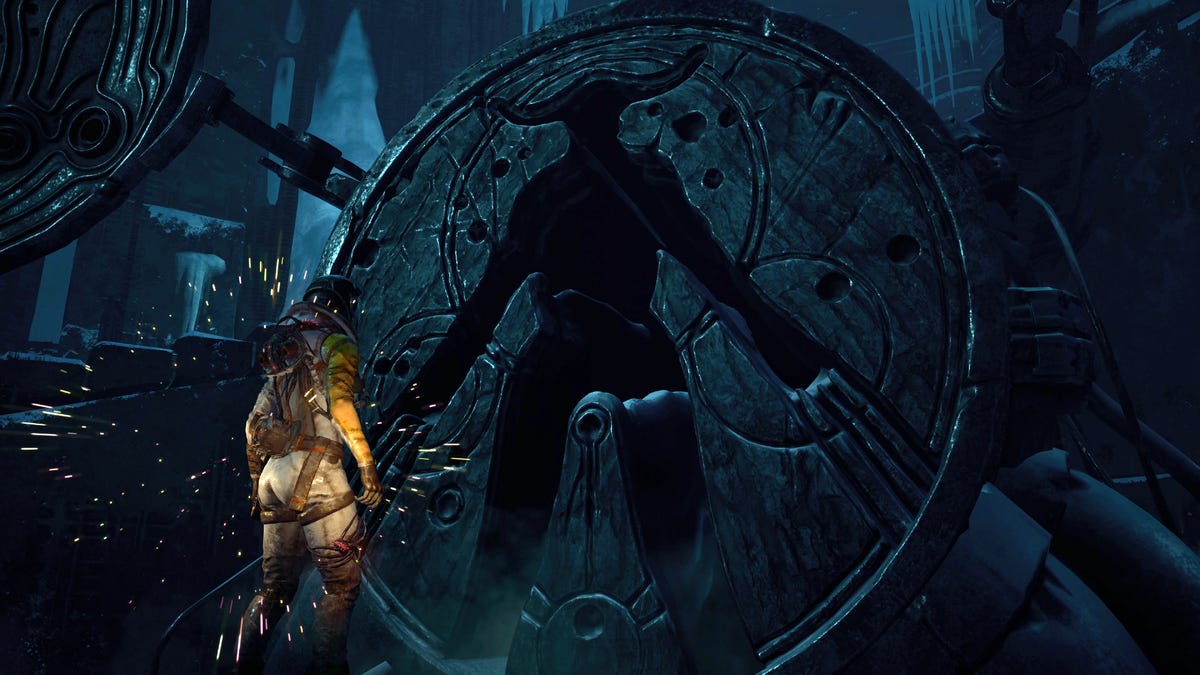 I made a mistake. I had to stop playing yesterday Return, an action-packed, nail-like game released last week exclusively for the PS5. You know, like shopping for groceries and drinking a rose on my roof. When I returned to the PlayStation 5 this morning, a pop-up notification informed me Return have been updated. I knew right away … I was in this run? Disappeared, erased, sent forever to the dump of history.
Part of that is my fault. (I've played a lot of games and I should know better by now.) But that's also the result of how Return is designed. ReturnThe crook who brings you back to the beginning with every death has no official way to save in the middle of your tracks. Developer Housemarque offers to put your PS5 in "rest mode", a patchwork solution that creates a whole bunch of other problems at the expense of solving a seemingly simple one. For lifting from Catgame review:
The run in Returnal can take hours, especially if you comb each room in each biome for as many resources as you can scrub. The fact that you can't save your game and go back to something else fits into a design decision from a previous, less adaptable era of games. If for some reason your PS5 shuts down, you're fucked up, potentially hours of carefully earned progress.
If you change games, you will lose your experience. And if Return automatically updated overnight, you will also lose your experience. The obvious solution is to turn off PS5 automatic updates. Honestly. However, automatic updates are an extremely useful feature throughout the board and you should not disable them for all your games just to fit one of your games.
The lack of preservation options is a cold wake-up call for some Return players who have gone online en masse to broadcast legitimate complaints. One popular thread Reddit The detailed detailing of the question gathered hundreds of answers, many of which came from users sharing experiences about how they were confused by the lack of save options in the game. Today, some users we mentioned the same problem I encountered where the game is updated overnight, erasing progress. In general, you can't view the game's special edits without seeing a post about how desperately the game needs a save feature.
G / O Media may receive a commission
Complicating matters is the fact that ReturnAs with any game released in the era of first day stickers and post-release updates, it doesn't work flawlessly. A lot on players have reports instances on disasters who have jumped otherwise great tracks. One Post to Reddit titled "When you're on a 4-hour stitch roll with 200% integrity and inventory full of artifacts, then the game crashes" caused me physical pain when reading. (Duuude, 200 percent integrity ?! Oof.)
During ReturnThe preliminary period, I experienced only one crash, which I fixed to the early state of the game. Throughout the first region, you will encounter a farm from the middle of the century, at which point the game avoids shooting from a third party to pick up first-person items and place them. At the end of the section, the game pulled me out of the house and into the overgrown forest outside, still in first-person view. I couldn't move. I couldn't open the menu. Returnit seemed to have a soft lock, so I had to restart, thus eliminating all my progress in this implementation – no big deal at the time, as I wasn't doing so well anyway. A colleague who played the game came across the same mistake. Kotaku AustraliaAlex Walker also did something he detailed his superb review of the game.
Last week, when Cat he asked why Return there is no option to save and if there are plans for implementation in the future, Housemarque representatives replied that the studio is focused on launching Return and "there are no further plans to announce at this time." Friday morning, Housemarque tweet brought a link to a Reddit thread for the lack of recording options, adding that there is a "[nothing] Let's announce now, but keep playing and enjoy the challenge as much as you can! "Sony, Returnpublisher of, did not respond to subsequent requests for comment from Cat.
The real confusing aspect of all this is how easy it is to imagine a version of Return with some degree of preservation functionality. Each region begins with a "safe" room – a room devoid of enemies, where you can catch your breath (and maybe bring in a free item or two). The auto-save feature in these rooms would make absolute sense.
Each biome also has machines called "reconstructors" – which allow you to create a rebirth point in exchange for six ethers, the only rare resource that is not erased between runs, and which can attract double debt as places to save. Thus, Return would keep your glove where you are forced to make key decisions at almost every turn: is it worth saving? Or are you saving your ether for future experiences? Bonus: The use of the reconstructors as places to save will lead to the preservation of the functionality in the knowledge of the game. Just spit here!
Of course, losing my run is not the end of the world. Of course, I had a good thing – I threw myself, holding a pistol with great damage with the skill killer Trackerswarm, and quickly found a bunch of improvements in health – but yesterday New York was great gorgeous with sky and temperature range in this 68º to 73º F sweet place. We get, and that's a generous estimate, four, maybe five of these days of the year. The rest of the time, New York is either a swampy swamp or a frozen wasteland. It may be a long time before we get another day like yesterday. I also met a puppy, so I'm not sorry I pulled away. Still, it would be nice to keep running. I had a good feeling about it.