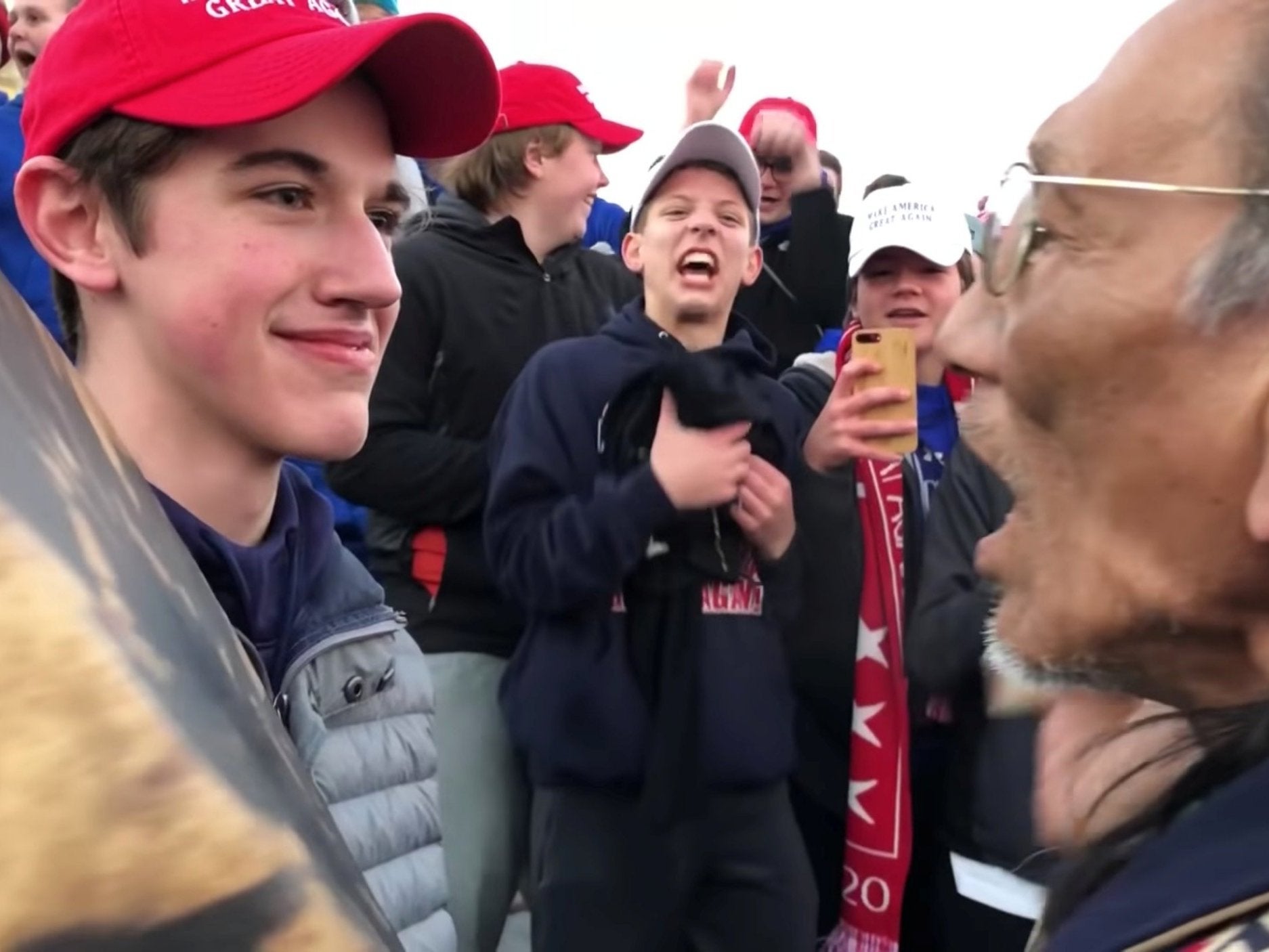 The boy's mother, shot with the harassment of an Indian man and his friends at a rally in Washington, accused "black Muslims" of confrontation without providing any evidence of the claim.
The teenager was a group of students carrying the Make America Great Again hats criticized for intimidating the musician Nathan Phillips, who surrounded him to mock him and repeat "building the wall, building the wall."
But his mother claims that the "black Muslims" have harassed a group of supporters of Donald Trump from Covington Private Catholic High School in Kentucky.
Join Independent minds
For exclusive articles, events and no ads reading only for
£
€ 6.99
$ 9.99 5.99
per month
Get the best from The Independent
With an independent mindset subscription just for
£
€ 6.99
$ 9.99 5.99
per month
Get the Best From The Independent
No Ads ̵
1; Only for
£
€ 6.99
$ 9.99
5.99
One Month
In an email on the Heavy.com news website, she wrote: "Have you heard the names of the people they call these guys? It was shameful. Did you see that black Muslims screamed cursing and video capturing to get something for a further (sic) narration of hatred?
"Did you know that this" man "approached this boy and crashed into his face?"
The meeting took place on Friday in the capital city of the capital during a rally against abortion in March.
Images of the confrontation featuring Mr. Phillips, Vietnam war veteran and Omaha elder in the Nebraska tribe, shared online by the organizers of the indigenous march, which also took place on Friday.
The videos have caused a flow of outrage. Actress and activist Alice Milano writes that the film "brought me tears" while actor Chris Evans says the actions of the students are "terrible" and "shameful."
Democratic Congressman Deb Hall, a member of the Laguna Pueblo tribe in New Mexico
Rep Ruth Buffalo, a North Dakota state lawmaker and member of the Mandan, Hidatsa and Arikara Nation, said she was saddened to see students showing disrespect to an elder who is also a military veteran.
"The behaviour shown in that video is just a snapshot of what indigenous people have faced and are continuing to face," said Ms Buffalo.
Both the Catholic high school and the Diocese of Covington have apologised and condemned the actions of the students.
"We extend our deepest apologies to Mr Phillips. This behaviour is opposed to the church's teachings on the dignity and respect of the human person."
"The matter is being investigated and we will take appropriate action, up to and including expulsion," the statement said.
Covington Catholic High School has since closed its Facebook page.
"When I was there singing, I heard them saying 'Build that wall, build that wall'," Mr Phillips said, as he wiped away tears in a video later posted on Instagram. "These are native land. We should not have walls here. We never did."
Additional reporting by agencies
Source link