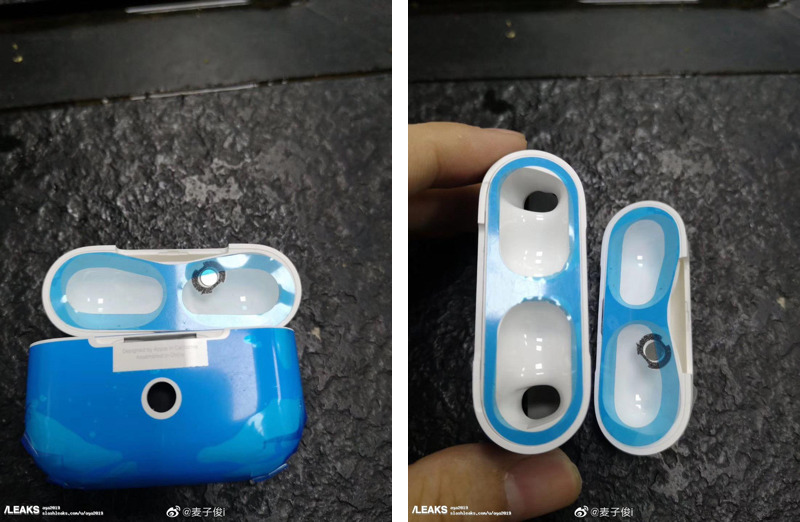 A pair of images posted online at the end of Friday seem to offer a more in-depth look of the boot case for an unreleased AirPods product, which was worn in October.


Posted in Leak Depository SlashLeaks both images show what looks like two halves of a squat, partially disassembled AirPods loading box.
The lower part of the white plastic part includes a top plate with recesses that is supposed to be designed to accommodate a next-generation AirPods device. The holes leading down from the top lid in the larger body are probably designed to hold the charging headphone trunks and have the size and shape of openings found in current AirPods charging cases.
Apple's usual California-designed and Chinese-assembled markings are shown below what could be a hinged channel, while a large cutout below the text appears ready to receive a split button affixed to the top of the the shell of a piece of tape.
Both the top and bottom are covered or partially covered with a blue protective coating. No other markings or internal components are visible, suggesting that the part – if legal – comes from a plastic housing supplier.
According to reports from Apple's supply chain earlier this month, the company plans to release a new product, "AirPods Pro," by the end of October. Unnamed sources say the headset will incorporate noise-canceling technology similar to the recently released Apple Beats Solo Pro and will sell for at least $ 260.
Noted analyst Ming-Chi Kuo first spoke on Apple's AirPods strategy in April, saying the tech giant intends to release two new models, one in late 2019 and another in early 2020. At least one next generation The device is expected to have a fresh design.
Apple itself may have leaked "AirPods Pro" in the recent iOS 13.2 beta, which includes an icon depicting the hitherto unknown design of AirPods. The illustration is very similar to the so-called "AirPods 3" images published on SlashLeaks in September. Interestingly, the September photo-loading case aligns with the shell seen on today's images.