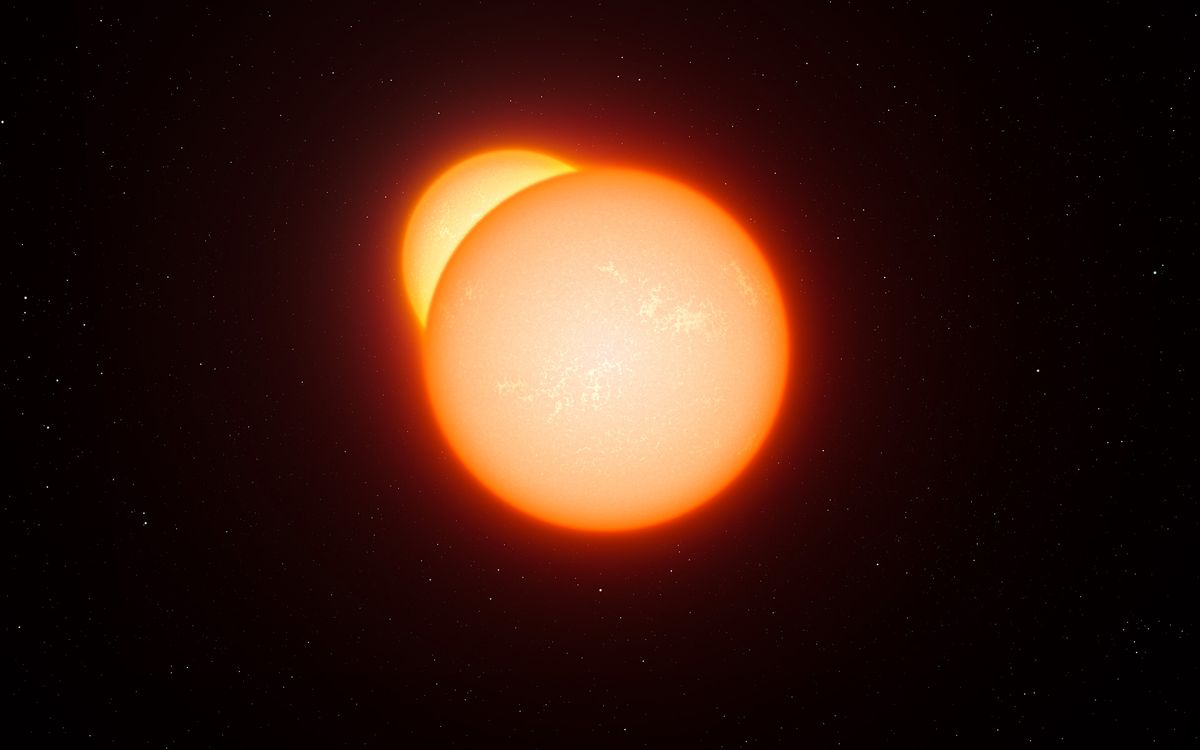 The most remote region of ours solar system, a sphere of dark, icy debris beyond Neptune, is overcrowded. All these things there, beyond the reach of the ancient disk of gas and dust that formed the planets, do not coincide with the scientific models for the formation of the solar system. Now a couple of researchers have proposed a new look at this distant mystery: Our sun has a long-lost twin. Both stars spent their childhoods collecting passing debris from interstellar space, crowding the outer parts of the solar system.
We can't see this twin. Wherever – if it ever existed – it has detached from its orbit with our sun eons ago. Since then, the two stars would have orbited the Milky Way much more than a dozen times and may have landed in completely different regions of space. But the record of the influence of this lost twin on our solar system may remain in the Oort cloud, a mysterious neighborhood of comets and cosmic rocks within the outer limits of our solar influence.
The Oort Cloud is a strange place. Unlike the planets and asteroids of the inner solar system, which lie on a flat disk around the sun, it forms a hollow sphere of debris surrounding the solar system in every direction. Compared to the inner planets, these distant wanderers experience very little of the solar ones gravityand could easily be pushed out of their orbits into interstellar space. The most distant objects in this sphere are barely connected to our sun at all, moving 1
00,000 times farther from the sun than
The Earth
.
Connected: The 11 most beautiful mathematical equations
"It's actually halfway to the nearest star, Alpha Centauri," said study co-author Avi Loeb, a Harvard astrophysicist. "If Alpha Centauri also has an Oort cloud, if all the stars have Oort clouds, then they all touch like billiard balls and the space is filled with them."
Our Oort cloud is less crowded with large objects than the inner solar system. Fly through it with a spaceship and you will hardly encounter anything at all. But it still hosts many more things than it should, Loeb said. Probably about 100 billion individual objects, mostly pieces of rock and ice, are in the cloud. We can't see them directly, but there's a lot of evidence for them: comets that plunge into the inner solar system from the Oort cloud at regular intervals.
There is some evidence of even greater things in the Oort cloud. For several years now, scientists looking at known objects beyond the Neptune cluster have been suggesting that there may be an unknown planet pulling them into formation. This planet 9 will be up to 10 times heavier than Earth, although it has not yet been seen. This whole mass far beyond Neptune is causing problems for astronomers, Loeb said. As well as the fact that the Oort cloud forms a sphere when it appears that all the planets and asteroids in the inner solar system have formed from a single flat disk of dust and gas.
"The question is: How did it come about?" Loeb told Live Science. "The popular opinion is that they may have been scattered by the disk that made the planets."
There are some objects in the cloud that apparently came from the inner solar system, Loeb said. But the large objects in this thick "scattered disk" make up only a fraction – about 1/50 of the total number of large objects moving in orbit outside Neptune. And the simulations of Oort's cloud formation, in which all objects coming from the inner solar system suggest that it must have somewhere between one-third and one-tenth of the number of large objects it appears to possess.
"You can't easily explain the large number of Oort cloud objects this way," Loeb said.
And if you assume that there is a large planet orbiting there, the crowded Oort cloud becomes even more difficult to explain.
In this case, along with his honorary collaborator, Harvard student Amir Siraj, Loeb suggested that the sun may have worked with a lost twin to capture passing objects from deep space.
The theory goes like this: Astronomers already agree that the sun, like most stars, probably formed in a tight cluster with many other stars in a galactic pocket of dust and gas. This stellar children's room was probably full of crooks – interstellar comets and perhaps heavier things like planets. But the sun's gravity alone was probably not strong enough to pull so many of these objects into Oort's orbits.
But what if the sun and another star revolve around themselves? Throw this binary satellite into the mixture and the calculation changes. Assuming that the two stars are approximately the same size and rotate around each other 1,000 times the distance between the Earth and the Sun (about 1.5% of a light year), their collective gravity may have stuck pieces of rock and ice from the interstellar space. Wednesday. By the time the sun and its twin drifted away — their orbits likely to be interrupted by a close collision with a third star — everyone would be shrouded in a cloud of Oort, much thicker than the sun and its twin would capture on their own. .
There are some good things in this theory, Loeb said. This explains not only the number of objects in the Oort cloud, but also its shape. Objects randomly dropped from deep space would form a sphere around the sun, as we see, not a disk.
Connected: 5 reasons to take care of asteroids
"The beautiful thing is that we can test it," he said.
If Loeb and Siraj are right, then astronomers have probably underestimated the number of really huge objects in the Oort cloud. With a binary satellite, the sun had to capture not only the still hypothetical planet 9 from its birth cluster, but many dwarf planets – objects such as Ceres and Pluto from the inner solar system – which will still be spinning in this far part of space.
There is currently no evidence for these dwarf planets. But Oort's dark and distant cloud is still so poorly understood that their lack of data is not surprising, Loeb said.
And the Great Weather Synopsis Telescope (LSST), due to be completed in Chile in 2021, will scan the sky with unprecedented detail just for these obscure, distant objects, Loeb said. If LSST's first long space scan reveals Planet 9 and a large population of additional dwarf planets in the Oort cloud, which strongly suggests that our solar system once had a twin, he said.
Wherever this stellar twin ended up, if it existed, we would never find it again, Loeb said. Everything in the Milky Way has been mixed up too many times since the original cluster of our sun disintegrated, 4.5 billion years ago. But we can imagine what it would look like: not a second sun, because even when the stars were twinned, they were still far apart. Instead, it could look like a very bright planet moving very slowly across the sky.
Originally published in Live Science.
Source link