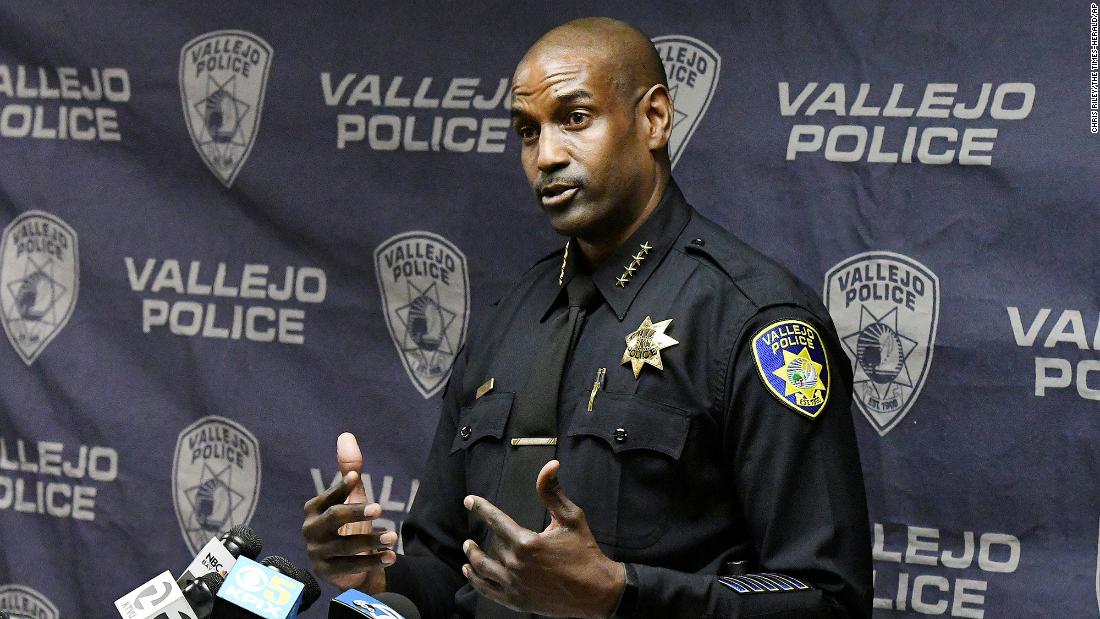 By the time Williams was sworn in in November, Vallejo officers had fatally shot 18 people in less than a decade, according to KTVU. Between 2005 and 2017, the Gulf community of 122,000 people had the third highest rate of police homicides per capita in the state, an NBC Bay Area investigation found.
"Vallejo is like a distillation of the problems faced by many places," Jeffrey King, founder of the non-profit news site Open Vallejo, told W. Kamau Bell in the episode "United Shades of America" ​​on Sunday. "
"There was a 2016 Pew survey of about 7,800 law enforcement officers across the country," King continued. "They found that 73% of law enforcement officers had never fired a weapon. Forty percent of the Vallejo Police Department had been involved in at least one shooting. [according to Open Vallejo research]and about a third of them were in two or more. "
That includes the now-fired Vallejo officer Ryan McMahon, who was involved in two fatal shootings, according to the CNN branch of KGO. In 2018, McMahon shot 33-year-old Ronel Foster during a confrontation over a missing Foster motorcycle headlight. The following February, McMahon was one of six officers who opened fire on Willie McCoy, a 20-year-old man who appeared to be asleep in a fast food restaurant. Police officers who arrived for a health check said they believed McCoy had reached for a gun in his lap.
A series of fatal shootings by Vallejo officers, including the murder of 21-year-old Angel Ramos in 2017, led to protests as the families of the dead demanded answers and accountability, the Vallejo Times-Herald reported.
Williams, the city's first black police chief, seemed to acknowledge the oath when he vowed to restore trust with a skeptical community, according to the KGO. "Today," Williams said, "we're setting a new direction."
Seven months later, however, it was clear how challenging this new direction would be.
On June 2, amid national protests in response to the death of George Floyd at the hands of police, 22-year-old Sean Monterosa was shot and killed by a Vallejo officer in a Walgreens parking lot. Police investigating reports of robbery said the hammer in Monteroso's pocket was mistaken for a gun.
In July, alarming news continued: an Open Vallejo report claimed that some Vallejo employees bent the tips of their police badges to mark fatal shootings while at work.
Williams called for an investigation and declared a public safety emergency in October to speed up the reform process, according to a CNN member of CNIX.
As constant calls for police accountability extend all the way to the White House, Bell sat down in a virtual interview with Williams to learn more about how he handles change in his department.
"There are tangible changes we are making now," Williams said. "I wanted a stronger body-wearing policy, from "must" to be activated to "must" to be activated for each contact. We had this change. … We work to our standards of conduct and ethical policy; I believe that cultural change begins with this.
"It is important for me to approach these problems of the community with empathy and compassion," he continued. "Change takes time. I can't change the past, but I can influence the future – and that's what we're focused on."
"United Shades of America with W. Kamau Bell" is broadcast on Sunday at 22:00 ET / PT.
Source link