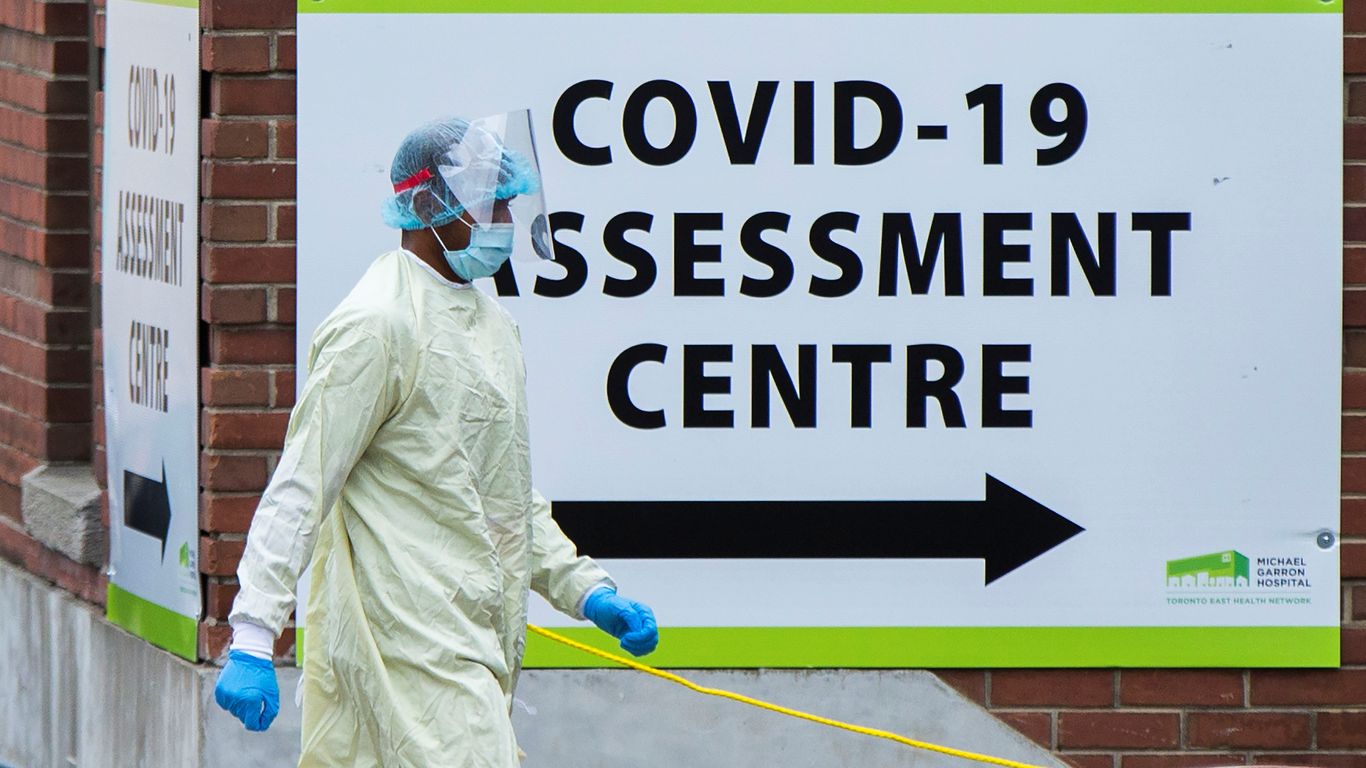 Ontario officials announced new measures to block the coronavirus for the Toronto and Peel regions on Friday, as Canadian Prime Minister Justin Trudeau urged all residents to stay at home, saying COVID-19 "cases are jumping across the country."
Why it matters: Canadian authorities estimate that by the end of the month, the death toll from COVID-19 could be between 11,870 and 12,120, with the total number of cases in the country being between 366,500 and 378,600, according to Reuters. Canada has registered 315,751 cases and 11,265 deaths since the beginning of the pandemic.
Ontarios reported 1,418 new cases of COVID-19 on Thursday.
Details: Ontario Prime Minister Doug Ford said Friday that his administration has moved Toronto and Peel to the "blocking"
; category, the province's strictest classification in COVID-19 levels.
From Monday:

Restaurants will be limited to removal, driving and delivery.
Non-essential retail outlets and shopping centers must be closed, with the exception of pick-up or delivery services.
Gyms, gyms and other personal services must be closed.
Residents will not have the right to hold internal gatherings with anyone outside their household.
Outdoor gatherings will be limited to 10 people
Religious services and weddings will be limited to 10 people.
Most universities will move to virtual learning.

The Durham and Waterloo regions are moving to the red "control" category, Ford said, and Huron-Perth, Niagara, Simco-Muskoka, southwestern Ontario and Windsor are moving to the orange "restriction" zone, according to the CBC.
What are they saying: "The situation is extremely serious and further action is needed to avoid the worst-case scenario," Ford told a news conference on Friday afternoon.
"We can't put training in a class, we can't risk widespread outbreaks in our long-term care homes, we can't risk overwhelming our hospitals. To protect our most vulnerable and to protect the most important, we need to bring the community under control, "he added.
Earlier on Friday, Trudeau warned that Canada's hospital system could be overloaded if COVID-19 cases jumped as predicted.

"Cases are growing en masse across the country. "We are facing a winter that will make people come in more and more and we are really at risk of seeing that the workload is increasing and the hospitals are overloaded and the loved ones are dying," Trudeau said in a television remark.
"Normal Christmas can't be talked about quite frankly," he added
"This is the future of our country, this is the future of our children, this is the future of our loved ones and the elderly, this is our economy, this is our business, everything is together."
Trudeau added that he did not "want to put in a federal hammer to try to do things," including imposing a nationwide blockade.