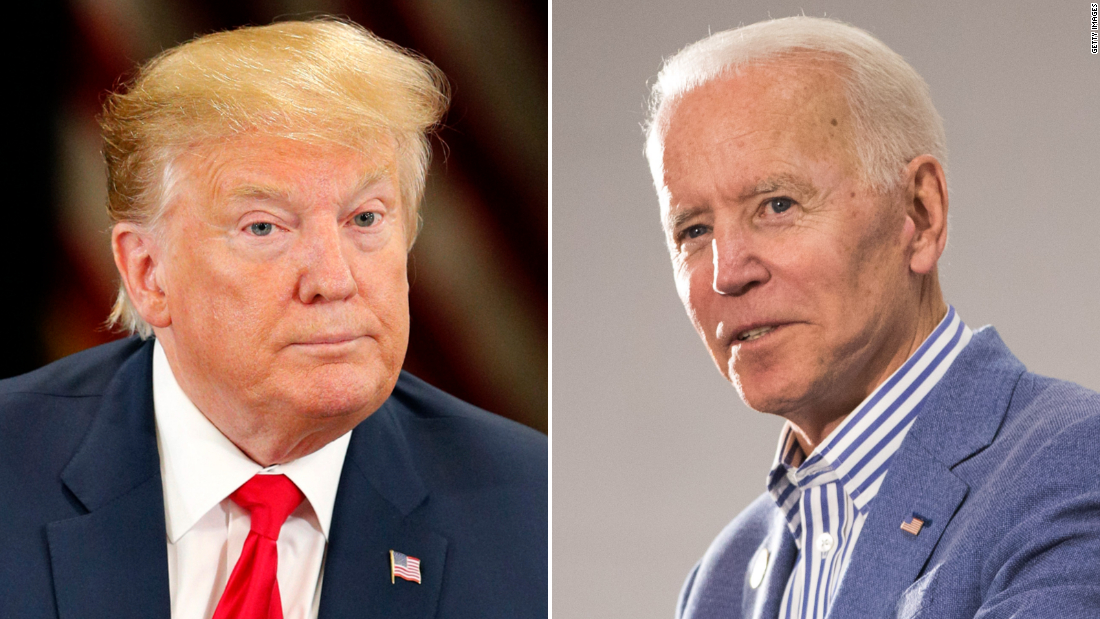 "Apparently he had my speech on Air Force One," Biden said around the same time, 250 miles away in Mount Pleasant, Iowa. "I guess he's really fascinated with me. I find it fascinating."
It was a political version of the putdown favored by passion-aggressive teenagers everywhere – why are you so obsessed with me? – rendered by two septuagenarians eager to occupy the other's head
In the end, it was Biden who singled out Trump more often by name – 35 times, according to CNN's count – compared to 15 mentions of Biden by the President.
Perhaps a ceding to advisers who have warned against elevating the Democratic front-runner, or perhaps hoping to dispel the notion that Biden is causing him electoral anxiety, Trump avoided any mention of his rival during an evening speech to a fundraiser in Des Moines
Still, for both men ̵
1; who brushed against each other in Iowa Tuesday but never crossed paths – the reasons for obsession are plenty and obvious
Trump has singled out Biden as the most formidable threat to the blue -collar voters who propelled him to the White House in 2016 – and polls (both public and internal) have shown Trump lagging behind his former vice president in states that were central to his victory
He is also threatening the Iron Grip Trump once held on the news cycle. Cable networks all carried some or all of Biden's midday speech in Iowa, a fact that did not go unnoticed on Air Force One as the President was jetting to the state.
That's on top of Trump's lingering fixation with his predecessor, President Barack
Biden, meanwhile, has framed his entire campaign on the grave necessity of defeating the President. Unlike some of his Democratic rivals – who were left on the sidelines Tuesday as the center-ring candidates sparred – Biden has decided to focus squarely on Trump, even as he speaks sanguinely of not being drawn into a mudslinging match
Blow for blow
With these motives in mind, each tore into the other on Tuesday. On their first day of trading attacks in a early voting state, a picture emerged of a potential general election match-up, colored by personal insults, open hostility – and attacks striking in their similarity
the eastern part of the state, Biden considered the President an "existential threat" to the country, questioning his intelligence on matters of politics and casting him as clueless to the struggles of working Americans
"I do not think the President really gets the basics, "Biden said during an evening speech in Davenport, which was so heavy on Trump insults, that his campaign sought to program the whole day around it, releasing the prepared text of the whole thing at 6 o'clock in the morning. 19659002] Lampooning Trump's onetime statement that "I alone can fix" the country's problems, Biden scoffed: "Fix yourself first, Donald Trump."
The President, too, went after Biden's smarts, albeit in far cruder terms
"Joe Biden is a dummy, "he said on the White House South Lawn before departing for Iowa, adding later:" It looks different than he used to, he is even slower than he used to be. do not know. "
Trump, of course, is no stranger to allegations of mental decline; he was so eager to disprove the claims of senility that he asked his doctor to administer a mental acuity test and release the results publicly in 2017.
Similar translations of Trump's insults, Donald Trump (and Fox News) has dog-whistling on Joe Biden " data-src-mini="//cdn.cnn.com/cnnnext/dam/assets/190305002256-0305-fox-news-channel-02-small-169.jpg" data-src-xsmall="//cdn.cnn.com/cnnnext/dam/assets/190305002256-0305-fox-news-channel-02-medium-plus-169.jpg" data-src-small="http://cdn.cnn.com/cnnnext/dam/assets/190305002256-0305-fox-news-channel-02-large-169.jpg" data-src-medium="//cdn.cnn.com/cnnnext/dam/assets/190305002256-0305-fox-news-channel-02-exlarge-169.jpg" data-src-large="//cdn.cnn.com/cnnnext/dam/assets/190305002256-0305-fox-news-channel-02-super-169.jpg" data-src-full16x9="//cdn.cnn.com/cnnnext/dam/assets/190305002256-0305-fox-news-channel-02-full-169.jpg" data-src-mini1x1="//cdn.cnn.com/cnnnext/dam/assets/190305002256-0305-fox-news-channel-02-small-11.jpg" data-demand-load="not-loaded" data-eq-pts="mini: 0, xsmall: 221, small: 308, medium: 461, large: 781″ src="data:image/gif;base64,R0lGODlhEAAJAJEAAAAAAP///////wAAACH5BAEAAAIALAAAAAAQAAkAAAIKlI+py+0Po5yUFQA7″/>
"All I can say is watch me," he said. "Just watch me."
For Biden, questions about his mental state at least provided a distraction from more acute questions about his political decisions. His jousting with Trump overshadowed any lingering Democratic criticism of his shifting stance on whether federal dollars should be used to pay for abortion. And after receiving the flak from rivals for not appearing in Iowa over the weekend, Biden largely had the state to himself on Tuesday, aside from the Republican incumbent
With Democrats largely quiet in their criticism of front-runner – and with his own strategy against Biden still coming into focus – Trump sought to fill the void using his dating material to his last campaign
"He makes his stance in Iowa once every two weeks and then he mentions my name 74 times in one speech , "he said during his event at the Ethanol Facility, which was ostensibly a taxpayer-funded official engagement, but included several political jabs
" That reminds me of Crooked Hillary, "he added. "She did the same thing, and then, when it came time to vote, they all said," You know, she does not like Trump very much, but what else does she stand for? " The same thing is happening with Sleepy Joe. "