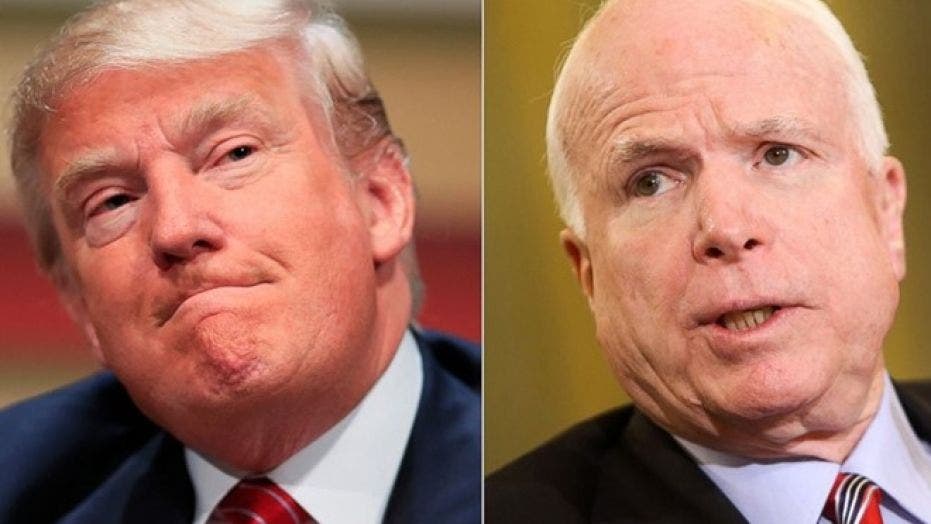 President Trump returned to the ongoing, one-sided feud with the late Sen. John McCain on Thursday, telling Fox Business Network "Morning with Mary," "I'm not a John McCain fan, and that's fine." Trump again accused McCain, who died in August last year, of filing a dossier of Trump's alleged links with Russia to the FBI and triggering a continuing investigation into Russia, which is currently being chaired by Special Adviser Robert Mueller. The president described the file as "fake news", "cheating … paid by Hillary Clinton and the Democrats. The President also disputed McCain's vote, which is now famous, against a measure of abolishing and replacing ObamaCare in July 201
7
"He was terrified, what he did with the cancellation and – replaced "What he did to the Republican Party and the nation and the sick people who could have a lot of health care is not good." To McCain in the last days of the disclosure of the file that came in the unpublished a statement from former FBI senior intelligence agent Bill Pristap as part of a pro a pending libel against BuzzFeed by a Russian businessman.Pastap confirmed that McCain had given the desk a copy of the first 33 pages of the file in December 2016.
During a speech at a Ohio Army factory workers on Wednesday, Trump again has been incarnated in McCain, at his request he gave him the funeral he wanted, which as President of the United States had to approve, Trump said at one point. "I do not care, but I did not get any thanks.
Click here to get FOX NEWS APP
Trump said Bartiromo that his criticism of McCain took a "very small part" of his time and blames the media for raising the issue. on [Wednesday] the fight, they asked me the question, "he said. "When they ask me the question, I answer the question, but you people raise it, I do not tell it."
Fox News Andrew O'Reilly and Paulina Deday contributed to this report
Source link