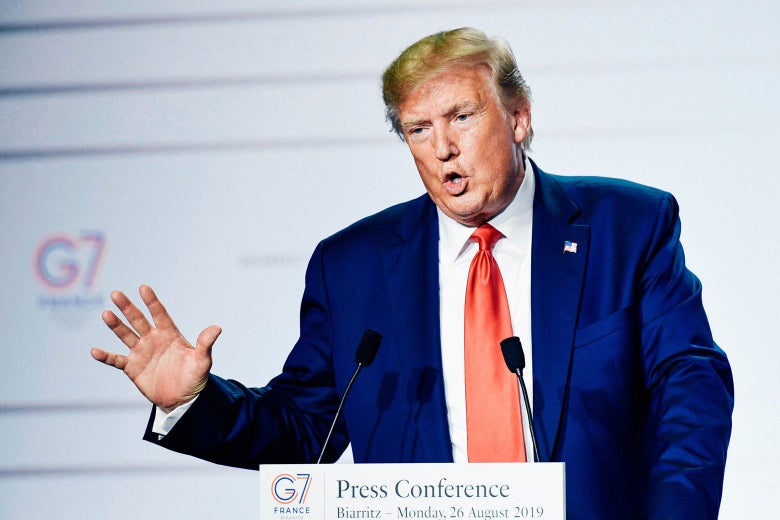 President Donald Trump's wild and exciting press conference at the end of the G7 meeting once again shows that the alleged author of The Art of the Deal is a disgusting negotiator.
It is also quite risky to achieve "maximum pressure" on China and Iran, but at least it is a strategy. It's another thing to just get away, do it, and then admit that you have "second thoughts" about escalating tariffs against China (then talk to a speaker about it) and welcome a dialogue with Tehran (only to make President Hasan Ruhani expel him).
Similarly, this is one, albeit unconstitutional (and therefore brainless bluff), to orders US companies to stop doing business with China, as Trump did just before top. But another thing to say at a news conference afterwards is that President Xi Jinping is a "great leader" who will make a deal soon and after he does, companies have to stay put and "do a great job."
If you are a corporate executive doing business in China, or an investor trades in currencies or even trades almost anywhere in the world, what should you do? How should you plan even months, much less years ahead? As Paul Krugman wrote in the New York Times, protectionism, while bad enough, may be adaptable, but "failed protectionism" is something of chaos and fall.
The main problem with Trump's measures is that he does not know what he wants .
Trump not only finances the industry; this chaos also distorts diplomacy and harms US interests. Asked about his tendency to go back and forth during a press conference, Trump replied, "This is the way I negotiate. Over the years this has been very good for me and even better for the country. "
Well, no. Over the years, he has not done very well with Trump, unless you define "very well" as maximizing profits by faking suppliers and avoiding debt by announcing multiple bankruptcies. And no technique is analogous to the more complex arena of international politics.
When negotiating a contract or concluding a real estate transaction, both parties – Trump and who sits on the other side of the table – have identical, albeit clashing goals (to increase revenue), and they both play by the same rules and regulations.
In negotiating a trade deal or a pact on arms control, each country has many different goals – not only for what an observer may consider to be their national interests, but also for the interests of a wide range of internal and bureaucratic factions. , which can be difficult to identify and in any case often call for a clever and delicate approach. (This is one place where intelligence agencies come in better; Trump ignores them too badly.)
Let us say that Trump is fully in control of situations involving China and Iran, and let us say that maximum pressure is a promising tactic. To make it work, you will have to stick to it. However, as long as Xi and Rouhani have been shaking in their boots (doubtful assumption), Trump's jolt gives them comfort – assuring them (rightly or wrongly) that they can wait for the crisis, that either Trump will give up, or the damage that inflicting on the US economy will lead to a more stable administration.
The main problem with Trump's violations, I suspect, is that he does not know what he wants. If Xi wanted to end the trade war now, it's unclear what he would have to do to make Trump reach a truce. It is also unclear what Ruhani should do to lift sanctions on his country. In both cases, Trump broke ground – imposing huge tariffs on China, withdrawing from a multinational nuclear deal with Iran – believing that the other would simply give up on the power of America and its own magic deal.
He had no contingency plan, no list of priorities for what he would like to trade more or less with some compromise – no sense that a compromise might be necessary.
China steals intellectual property and engages in unfair commercial practices; this is unconscious and too many past presidents have done too little about it. But dropping 25 percent tariffs on all Chinese goods does not solve the problem and in fact distracts from the search for solutions. Iran is financing terrorists and building ballistic missiles with the reach of US allies, but withdrawing from the 2015 nuclear deal – which led to the dismantling of Iran's nuclear program – also does nothing to address these issues. (It would be better to use the deal as a starting point for moving on to other issues, just as during the Cold War successive arms control treaties with the Soviet Union dealt with an ever-growing array of disputes.)
One thing Trump's shenanigans have done is to show that the United States is still a powerful nation. Allied leaders, like those in the G-7, have learned to treat him with kid gloves – to compliment him, to laugh at his jokes, to accumulate him with gifts – so that he does no more damage and, perhaps, his own cooperate a little. But they realized that while Trump was in the lead, the United States was an unreliable ally and that they could find other arrangements as quickly as possible – security, trade and other major aspects of global politics. , America's competitors and adversaries – particularly China and Russia – are finding signals, helping to widen the gap in some cases.
Trump does far more damage than he knows. At least some of the people around him know this, but no one has the backbone to tell him.
Readers like you make our work possible. Help us continue to provide reports, comments and reviews that you won't find anywhere else. Join Slate Plus.
Join Slate Plus