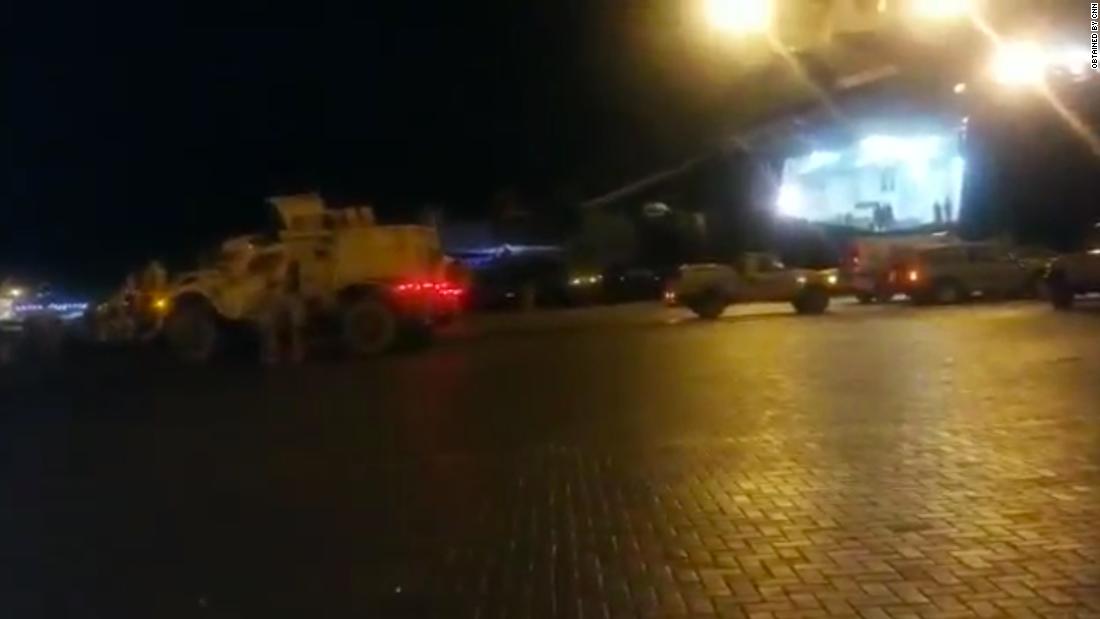 The distinctive shape of the US-made Oshkosh armored vehicle stands out in the early morning darkness, a piece of military hardware that is currently at the heart of a standoff between some American lawmakers and President Donald Trump's administration.
Aden is controlled by the Saudi-led coalition in Yemen, whose main partners are continuing to ship American-made weapons into the country despite bipartisan outrage in Congress over the US way is backing Riyadh in this bloody and bitter conflict.
showing the unloading of a variety of US-made arms – which was filmed illicitly at the offloading site, then obtained and verified by CNN – is itself contentious. Multiple witnesses told CNN that Yemeni authorities, backed by the Saudi-led coalition, had been arrested and questioned by those who suspected of leaking it to the media.
Using whistleblower accounts and port documents, CNN had identified the ship which offloaded the US weapons. and Aden last week as the Saudi-registered Bahri Hofuf. Looking at tracking data, the vessel's last recorded location was in the Saudi port of Jeddah on September 1
7, before it sailed to Port Sudan, arriving the following day.
After this, the boat's tracking system was switched off before it appeared again under the cover of darkness in Aden on October 29.
Secrecy surrounds the flow of weapons to Yemen's conflict that as of October 31 has killed more than 100,000 people since 2015, according to the Armed Conflict Location & Event Data Project.
Related Article: Sold to an ally, lost to an enemy
The fighting has divided the country's north from south. Iranian-backed Houthis rebels control of Sanaa capital, while US-backed, Saudi-led anti-Houthi forces hold Aden. Infighting in the South this summer – between Saudi-supported forces of internationally recognized government and UAE-backed separatists – further splintered territorial control, threatening to plunge the entire country into a prolonged and multi-sided war.
A peace A deal between government forces and separatists was signed on Tuesday in the Saudi capital of Riyadh. It aims to end the power struggle around Aden and defer the issue of whether the south will secede until after the battle against the Houthi-controlled north has been won.
Violating US arms agreements
In February, a CNN investigation revealed that Saudi Arabia and the UAE – key US allies – had transferred American-made weapons to al Qaeda-linked fighters, hardline Salafi militias, and other fighting facts in Yemen, in violation of their agreements with Washington.
Oshkosh Defense, the manufacturer of one armored vehicles (MRAPs) seen in the latest shipment, told CNN that the firm "strictly follows all US Laws and Regulations Relating to Export Control. "
Last month, CNN revealed that US MRAPs had been distributed, in contravention of arms deals, to militia groups including the UAE-backed separatists. The separatists were using this equipment to fight government forces, who are also armed with US weapons.
Following the initial reporting by the Pentagon said it had launched its own investigation, in conjunction with the State Department, into the unauthorized transfer of US weapons in Yemen, which a Pentagon spokesperson says remains "ongoing."
US lawmakers, citing CNN's investigations, have since moved to ban arms sales to Riyadh and Abu Dhabi, passing the War Powers Resolution against a sitting President for the first time in a bid to end US military support for the Saudi-led coalition in Yemen, and also tried to sanction the Saudis for the alleged murder of journalist Jamal Khashoggi. The War Powers Resolution was approved by the House and Senate but vetoed by Trump in April.
Trump reinstated his veto rights in late July to block a trio of Congressional resolutions banning $ 8.1 billion in weapons sales to various countries, including Saudi Arabia and the UAE. The President argued that maintaining the flow of weapons to the two US allies was necessary, citing national security issues and fears of Iranian aggression.
The 2014 deal signed by the UAE with the US was worth $ 2.5 billion and required delivery of 4,500
Under the UAE and Saudi Arabia's arms sales agreements with the US, American-made MRAPs are considered "proprietary technology," which neither party has been alleged to let out of its control.
Recipients of US weapons are also legally bound to adhere to end-use requirements that prohibit the transfer of any equipment to third parties without prior authorization from the US government.
A State Department official told CNN that the American government is taking all allegations of the misuse of US weapons very seriously but insisted "there is currently no US prohibition on the use of US-origin MRAPs by Gulf coalition forces in Yemen." A spokesman for the Pentagon, Lt. Col Uriah L. Orland, told CNN "we cannot comment on any potential or ongoing investigations into claims of end-use violations," but also reiterated there was currently no prohibition on the use of US MRAPs in Yemen.
CNN has been found multiple instances this year where that weaponry was diverted, in defiance of end-user agreements.
In response to CNN's request for comment by a spokesman for the Saudi-led coalition Col. Turki Al-Maliki said "information that military equipment will be delivered to a third party is unfounded." He went on to say that "all military equipment is used by Saudi forces in accordance with the terms and conditions of the Foreign Military Sales (FMS) adopted by the US government and in pursuit of the Arms Export Control Act."
US hold on arms to UAE
Speaking exclusively to CNN, multiple congressional sources now say the US government has placed on the latest outstanding MRAP delivery to the UAE while the Pentagon continues its investigation.
What this latest Saudi delivery of American weapons to Aden proves is US military hardware is still flowing into Yemen.