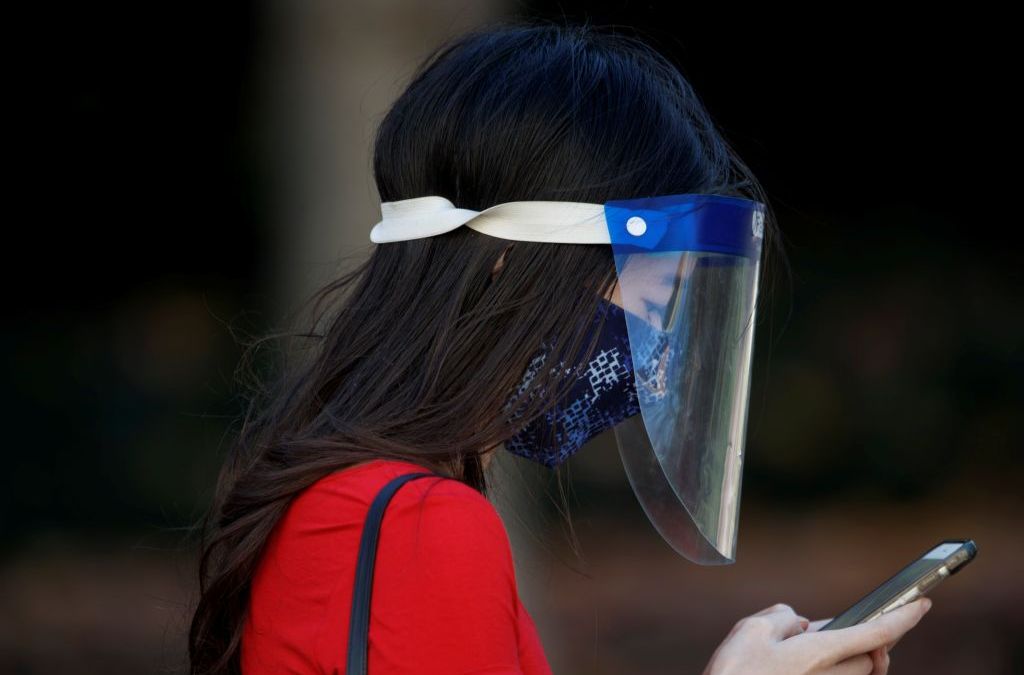 Stricter restrictions on the coronavirus are already in place in Prince George County and Virginia as employees try to anticipate the increased number of cases. Earlier, the changes took effect in Maryland.
In Prince George County, masks must be worn outdoors and capacity will be limited in many businesses. The collection size will also be limited to 10 people indoors and 25 outdoors, or one person or household per 200 square meters.
New capacity constraints will be introduced in many Prince George County businesses, including:
Domestic restaurants are now limited to 25% capacity
The outdoor dining area is limited to 50% capacity
Bowling alleys and gyms limited to 25% capacity
Trade is limited to 50% capacity
Churches are limited to 1

25 people outside or 25% capacity inside
Face masks and covers will be needed outdoors unless someone is exercising vigorously. The rule applies to most people over the age of 5.
In Virginia, anyone over the age of 5 must wear a mask indoors, and the capacity for indoor and outdoor gatherings will be further limited.
Fees are limited to 25 people, and alcohol sales now end at 10pm under the new regulations as Virginia tries to slow the spread of COVID-19. News4 report by Juliana Valencia.
Attendance at indoor and outdoor gatherings will be reduced from 250 to 25, and the age at which children must wear masks indoors will be reduced from 10 to five. Alcohol sales should end at 10 p.m.
The owners of The Renegade Restaurant and the Arlington Music Club are worried about the impact of the weather on stopping alcohol sales.
"It will hurt us drastically. We're in business late into Clarondon. A huge part of our sales come this weekend from 10 to 2 o'clock ", said the managing partner Seamus Phillips. "We don't know how we're going to get around this scenario to keep our doors open."
The following measures are currently in place in Virginia:
Reduction of public and private gatherings: All public and private personal gatherings should be limited to 25 people, compared to the current limit of 250 people. This includes outdoor and indoor settings.
Extending the mandate of the mask: All Virginies over the age of five must wear face coatings indoors. This extends the current mandate of the mask, which has been in effect in Virginia since May 29 and requires all persons aged 10 and over to wear face coatings in public indoor establishments.
Enhanced law enforcement in major retail businesses: All major retailers, including grocery stores and pharmacies, must adhere to government guidelines for physical removal, facial wear, and improved cleaning. Although some major retailers have been required to adhere to these provisions as best practice, violations will now be enforceable through the Virginia Department of Health as a Class 1 offense.
Curfew on the spot for alcohol: The sale, consumption and possession of alcohol on the spot are prohibited after 22:00 in any restaurant, restaurant, food container, brewery, microbrewery, distillery, wine or tasting room. All restaurants, eateries, food courts, breweries, microbreweries, distilleries, wine and tasting rooms must be closed by midnight. Virginia law makes no distinction between restaurants and bars, but under current restrictions, those who choose to consume alcohol before 10 pm must be served as in a restaurant and remain at tables six feet away.
DC's public schools will open select distance learning schools in person on Wednesday. The Canvas Academics and Real Engagement (CARE) classrooms will be able to accommodate about 600 students, Chancellor Luis Fereby told a news conference on Monday.
Students who had previously accepted offers for personal training places had received offers for those places, he said. Amid staffing problems and safety concerns, DCPS had previously dropped plans to return some elementary school students to schools earlier this month.
Last week, the mayor of the District of Columbia, Muriel Bowser, said that he did not rule out the possibility of canceling some elements of phase 2, reopened if the impact of the virus worsens.
Coronavirus cases in neighborhoods in the District of Columbia
What the data shows
Coronavirus cases and deaths are still rising in DC, Maryland and Virginia – with big jumps in cases in Virginia and Maryland.
DC announced another 87 cases on Monday; no deaths were reported.
Prince George's County takes one of the strictest stances against violators of coronavirus rules. District leaders are temporarily shutting down two hotels in the National Port, saying they have ignored months of warnings. The head of Prince George's county office, Tracy Wilkins, says what's next.
Maryland announced 1,726 cases of the virus and seven more deaths.
Virginia announced another 2,071 cases and six more deaths.
Hospitalizations were almost constant in DC, but increased in Maryland and Virginia, with 101 hospitalized in DC, 985 in Maryland, and 1,071 in Virginia.
The map below shows the number of diagnosed cases of coronavirus per 100,000 inhabitants.
Coronavirus cases in DC, Maryland and Virginia
COVID-19 Cases by Population in the District of Columbia and by County in Maryland and Virginia
---
Local coronavirus titles
---
Reopen Tracker
Virginia has announced new measures to combat COVID-19 as cases of the virus have increased across the country.
Maryland has lifted capacity restrictions on indoor restaurants and urged people not to travel to countries where the coronavirus is spreading too fast.
Montgomery County has reduced capacity limits in many businesses, including indoor dining, to 25 percent. Earlier, the county stopped refusing to sell alcohol after 10 p.m.
The mayor of DC has extended the state of emergency in the city for coronavirus to continue until the end of the year.
Maryland's child care providers can return to the full teacher-child ratio for which they are licensed, government officials said, and some nursing homes will be able to resume indoor visits.
---
How to stay safe
There are ways to reduce the risk of coronavirus infection. Here are guidelines from the CDC:
Everyone over the age of 2 must wear a mask or face covering. Hold it over your nose and mouth.
Wash your hands often. When done, rub with soap and water for at least 20 seconds. As a backup, use a hand sanitizer with at least 60% alcohol.
Avoid close contact with anyone living outside your home. This means staying on your feet from anyone outside your circle, even if you are wearing masks.
Always cover coughing and sneezing.
Clean and disinfect frequently touched surfaces.