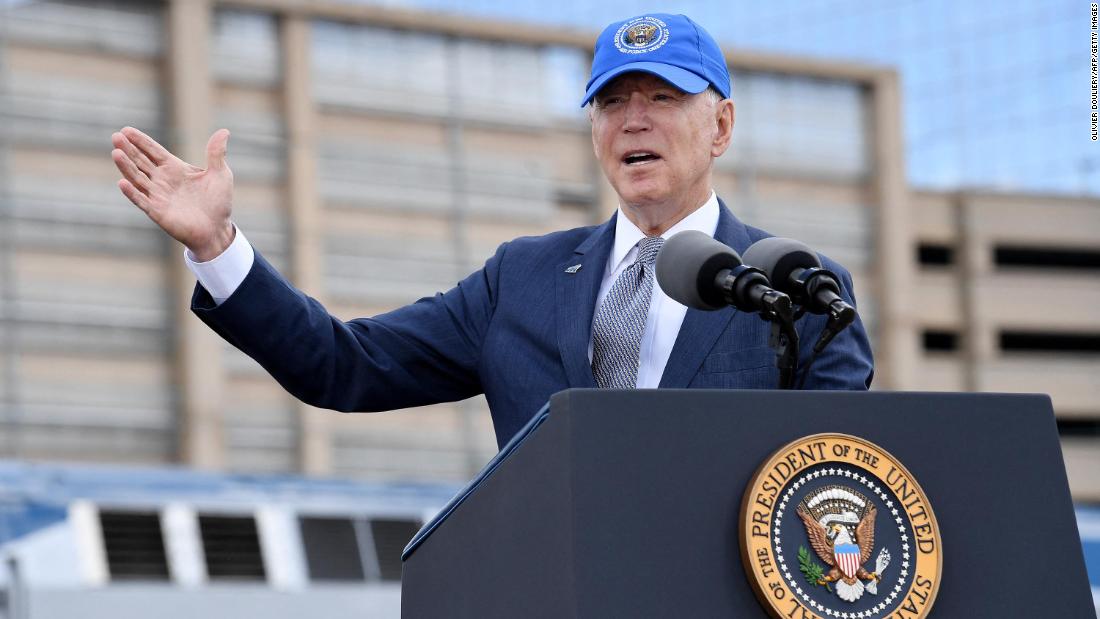 Not because President Joe Biden is punctual all the time. Certainly not.
But during his first 100 days in the Oval Office, Biden gave us periodic false claims, instead of the stunning avalanche of everyday mistakes we faced from his predecessor.
According to a rough count of CNN, Biden made a total of 29 false statements in the first 100 days, about one every three and a half days on average. This is not a reason to celebrate. But I counted 214 false allegations by Trump about his first 100 days in office, averaging more than two a day – and that was a very slow period for Trump compared to later. Trump averaged about eight false statements a day throughout the year I followed as a CNN reporter, from August 201
9 to July 2020.
Trump was an extremely prolific liar, so it is neither a surprise nor a compliment to note that his successor is far more accurate than he is. And Biden also speaks much less publicly than Trump. According to data provided to CNN by Factba.se, a website that tracks presidential speeches, Biden said about 28% fewer public words than Trump by April 29 on their respective terms.
When Biden makes public remarks, he is much more likely to read from a prepared text than Trump's famous free move was. Biden's prepared texts are quite factual.
Then, of course, there is a gap in Twitter. Trump used social media to deliver cuffs and often inaccurate praise and attacks. Biden prefers to publish conventional presidential announcements, many of which do not contain checks of any kind.
Fake advertising numbers
When Biden made false allegations, he was usually agitating rather than reading a text. And he often advertised some statistics.
For example, at the CNN City Hall in February, Biden claimed that the majority of undocumented immigrants in the United States were not Hispanic (experts put the actual figure at two-thirds or more Hispanic) more working than retired) that one million doses of Covid-19 vaccine per week will be sent to community health centers (the plan was to send one million in the "initial phase" of the program, not every week) and that the federal minimum a salary of $ 7.25 an hour today would be $ 20 an hour if it was related to inflation when it was created (Biden wasn't even close – the White House said Biden was confused by other statistics).
At a press conference in March, Biden said the United States was sending back "most of the families" who had arrived at the southern border. While the United States did expel most of all migrants meeting at the border, they sent back less than half of the families.
In an interview with ABC News in March, during which Biden misplaced three statistics, he said "all" tax breaks from his pandemic relief law would reach the bottom 60%. The think tank's estimate, to which he refers, actually says that about 67% of tax breaks, and not "all" of them, will reach the bottom 60%.
Wrong on two hot key issues
Biden's false claims are not limited to numbers.
In late March and early April, Biden considered the issue with the hot buttons of Georgia's new election law. And he either cheated or didn't tell his facts – he mistakenly suggests that the law requires polling stations to be closed at 5 p.m. (You can read a detailed fact-check here.) While the new law reduces voter access in other ways Biden gave lawmakers ammunition to argue that opponents of the law were dishonest.
In a speech in April on another sensitive issue, Biden's insistence on additional arms control measures, he exaggerated the immunity of arms manufacturers from lawsuits, arguing that the arms industry was the only major industry that "could not be prosecuted." While arms manufacturers are protected from liability for the illicit use of weapons, they can and have been prosecuted for other reasons, such as negligence and their marketing practices. And vaccine manufacturers also have significant protection against liability.
Inaccuracies in Trump's sting
Biden was sometimes inaccurate in his attempt to compare himself favorably with Trump.
Speaking of Covid-19, Biden said in March: "A year ago we were struck by a virus that was met with silence and spread uncontrollably." Trump's early rhetoric about the virus was deceptive, but the "silence" is not true. (Biden did not specify that Trump's team allegedly met the virus in silence, but that was his clear suggestion.)
Biden has twice claimed that Trump "eliminated" funding from the Obama administration for Central America. While annual aid funding for Central America has declined under Trump, and while Trump has temporarily suspended aid in 2019, the "abolition" is an exaggeration.
As noted by the Washington Post and the New York Times, Biden also exaggerates the extent to which the Trump-era federal government has outsourced contracts to foreign companies.
And Biden has repeatedly claimed that Trump has signed a tax law that gives 83% of the benefits to the best 1%. In fact, this figure of 83% is a forecast of the think tank about what would happen in 2027 if the reduction of corporate tax under the law remains in place, but its individual tax cuts expire, as planned after 2025. Between 2018 and 2025, by contrast, the think tank estimates that the top 1% would receive between 20.5% and 25.3% of the benefits.
We wouldn't call the 83% claim outright false – depending on how Biden said it, it's misleading or out of context – but it's worth noting that there's more to the story than Biden continues to suggest.
Unnecessary exaggerations
Some of Biden's false claims are exaggerated.
Boasting how well he knows Chinese President Xi Jinping, Biden claims three times in office that he has traveled 17,000 miles or more than 17,000 miles "with" Xi. As the Washington Post noted for the first time, this number is not entirely accurate. Biden could do exactly the same by saying he spent a lot of time with Xi.
Before Biden visited wounded soldiers at the Walter Reed National Military Medical Center in January, he told reporters that as a vice president he had visited the facility "every Christmas." In fact, there is evidence that he went to five of the eight Christmases; he could demonstrate his affection for the troops just as well by saying that.
In its heyday at CNN City Hall in February, Biden said the United States was spending nearly $ 9 billion in tax relief "for people who own racehorses." Experts have no idea where Biden got this figure for this tax credit, and the White House declined to explain.
Course adjustments
Unlike Trump's White House, Biden's team often seems receptive to fact-checking – and sometimes seems to react to it.
When I first checked the facts about Biden's presidency in January, I noticed that Biden was wrong to tell reporters that when he initially announced his goal of 100 million vaccinations in the first 100 days, "you all said it was not possible." Biden moved to softer and more precise language in subsequent comments on the subject, saying in March, for example, that his goal was initially "considered ambitious" and that "some even suggest that it is somewhat daring."
In April, I pointed out that Transport Secretary Pete Buttigig and another Biden administration official were wrong to say that Moody's Analytics expects Biden's infrastructure plan to create 19 million jobs; in fact, Moody's credited the infrastructure plan with about 2.7 million of the 19 million additional jobs it discusses in its forecast. I noted that Biden's own description of the figure of "19 million" was technically accurate, but still quite misleading.
And then something interesting happened. When Butigieg was challenged on television for his inaccurate figure, he admitted his mistake and correctly explained the nuances of Moody's analysis. Both Biden and the White House stopped actively deploying the 19 million figure altogether — even in the narrowly correct form Biden had originally used.
We're not having a party for Biden's team here; it would have been better if the administration had not initially made a mistake. But after four years of working with Trump's White House, who didn't seem interested in fact-checking at all, Biden's White House response was welcome.