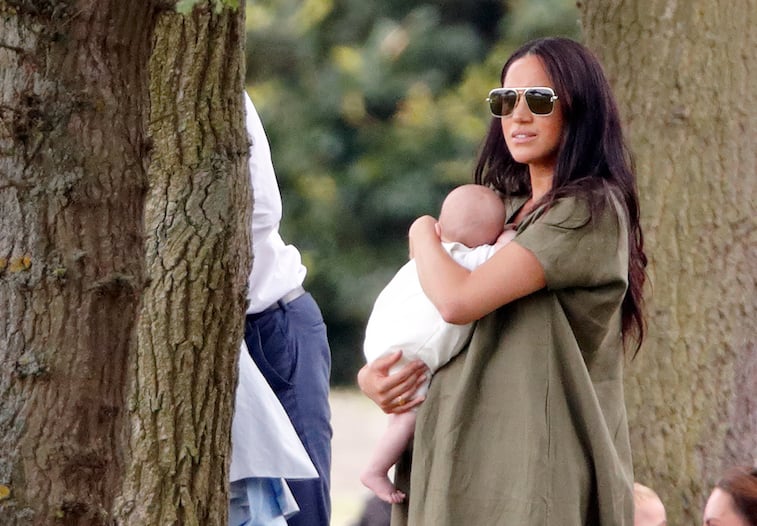 It is hard to believe that it has been over two months since baby Archie came into the world. Archie's parents, Duke and Duchess of Sussex, have so far gone to great lengths to keep their only son out of the public eye. They would only give the public small little peeks of him here and there.
Up to that point, we saw only pictures of his feet or a small part of his face. But during his christening, Meghan Markle and Prince Harry shared multiple photos of their son and the world finally got a clear picture of Archie Harrison Mountbatten-Windsor.
After seeing more pictures of the newest royal family member, many people are wondering if Meghan and Harry are also willing to share specific details about the little Archie's christening, especially if the Duke and Duchess have picked Archie's Godparents yet. So, who did Meghan and Harry pick to be Archie's Godparents? Meghan, Duchess of Sussex and Archie Harrison Mountbatten-Windsor "
; class="wp-image-1194170″/>
Meghan, Duchess of Sussex and Archie Harrison Mountbatten-Windsor |
On July 6, exactly two months after the baby Archie was born, he was baptized at Windsor Castle in Queen Elizabeth II's private chapel. The ceremony was a small and intimate affair with only close friends and relatives in attendance. Tradition is very important to the royals during a christening. That's why Archie wore the same christening gown that has been worn by all the royal babies that have been born in the past 11 years.
Also, the Lilly Font was used during the christening, which is a silver bowl that was specially designed by Queen Victoria and Prince Albert and has been used at every royal christening that has taken place since 1841. What role do godparents play in a baby's life
In the Catholic religion, when a baby is baptized, baby's parents must then choose godparents for the child. This is something that is very important to Catholics and is a decision that is not taken lightly.
According to The Catholic Spirit: "It is the duty and privilege of Catholic parents to pass on the gift of faith to their newly baptized child, and likewise, it is the duty and privilege of the godparents to assist the parents with this all -important task. "
The godparent is also the one who will take care of the child in the case that something should happen to the parents and ensure that the child will still be raised with a Catholic upbringing.
The role of a godparent is taken very seriously in the Catholic religion. It is so important that some Catholic parents choose to pick multiple sets of godparents for each child. In fact, Prince George has seven different godparents, Princess Charlotte has five godparents, and Prince Louis has six different godparents. So, there is a good chance that baby Archie also has multiple godparents
View this post on Instagram
This morning, The Duke and Duchess of Sussex's son, Archie Harrison Mountbatten-Windsor was christened in the Private Chapel at Windsor Castle at an intimate service officiated by the Archbishop of Canterbury, Justin Welby. The Duke and Duchess of Sussex are so happy to share the joy of this day with members of the public who have been incredibly supportive since the birth of their son. They thank you for your kindness in welcoming their first birthday and celebrating this special moment. Their Royal Highnesses feel fortunate to have enjoyed this day with the family and the godparents of Archie. Their son, Archie, was baptised wearing the handmade replica of the royal christening gown that has been worn by royal infants for the past 11 years. The original Royal Christening Robe, made of fine Honiton lace lined with white satin, was commissioned by Queen Victoria in 1841 and first worn by her eldest daughter. It was subsequently worn for generations of Royal christenings, including The Queen, her children and her grandchildren until 2004, when The Queen commissioned this handmade replica, for the fragile historical outfit to be preserved, and for the tradition to continue. Photo credit: Chris Allerton © ️SussexRoyal