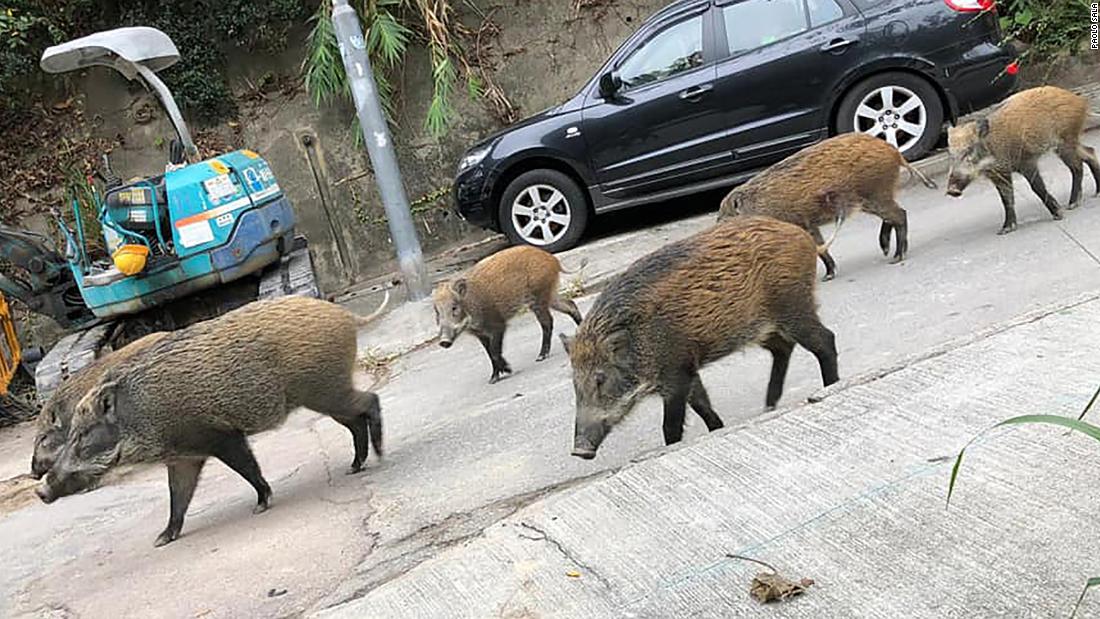 A few weeks ago, the family encountered some unusual neighbors: a trio of wild boars.
The boars now regularly wander along the road that leads to Walsh's apartment complex, in a favorite spot next to a nearby footpath and hang out in the local playground.
"They're super tame and friendly," says Walsh, but adds that she always keeps a watchful eye on them when she has her twins in tow.
Encounters like hers are becoming a regular part of Hong Kong city life.
The number of boar sightings and nuisance reports has more than doubled in the past five years, according to the Agriculture, Fisheries and Conservation Department (AFCD).
The beasts, which can weigh up to 200 kilograms (440 pounds ) and can reach up to 2 meters (6.5 feet) in length, have recently run amok in Hong Kong's financial district, roamed among airplanes at Hong Kong International Airport and wreaked a havoc in a shopping mall.
Police trying to capture and boar in Hong Kong's financial district in 2017. " class="media__image" src="http://cdn.cnn.com/cnnnext/dam/assets/170625040505-hk-wild-boar-large-169.jpg"/>