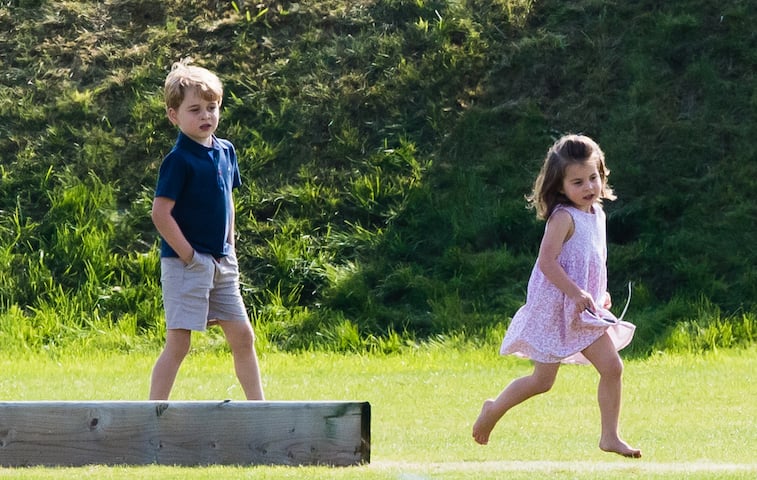 Being born in the royal family is a life of privilege, glitz, and glamor, and that's exactly what Baby Sussex is sure to experience.
While the baby is sure to be in the spotlight, especially at first, eventually all of that attention is sure to fade just a little like Meghan and Harry raise the child in the countryside town of Windsor, England. However, fans will still want to know as much about Baby Sussex as possible, which leads many people to wonder if Meghan and Harry's child will grow up in competition with his or her cousins, the Cambridge children
Prince George is a future King
Although Prince William and Kate Middleton are choosing not to tell him until he's a little older, we can not forget the fact that little Prince George will someday be a ruling monarch of the United Kingdom.
This is quite a role to undertake, and his sister and brother are right behind him in the line of succession. Meghan and Harry's child, however, is not in the direct line to the throne, and will more than likely never be king or q ueen
Princess Charlotte is currently the only girl
With little Princess Charlotte is now the only granddaughter of Prince Charles, she certainly garners a lot of attention! If Meghan and Harry would welcome a new son this spring, Charlotte will not lose her place as the only diva in the family!
Is Harry and William always in competition with each other?
Princes Harry and William are really extremely close friends as well as brothers. As far as the royal fans know, there was never more than a friendly competition between the two, and it had nothing to do with the fact William is a future King!
Harry was never jealous of or compared to his brother in any way, and he actually once said he is glad that he will never be the ruling monarch of the United Kingdom. Although the brothers have been affectionately called "an heir and a spare" by the British public and the world, it seems that there is no competition between the two
The Prince and Princess Charlotte " class="wp-image-1077286″/>

Prince George of Cambridge and Princess Charlotte of Cambridge | Samir Hussein / Samir Hussein / WireImage
Although Meghan and Harry, the Duke and Duchess of Sussex, are choosing to leave the city of London in favor of a quieter life for their child, they will certainly bring the baby to Kensington Palace in order to spend time with the Cambridge family.
There is plenty of room at the palace for all of the children to run around and have a wonderful time as they grow up together. Many memories are sure to be made as the two families share experiences together and allow all of their children to be the best of friends
There is no likely to be any competition
there will be any competition between Baby Sussex and the children of Prince William and Kate Middleton
All of the parents are extremely close, so children will be as well. With rumors of a royal feud between Meghan and Kate beginning to disappear, it would seem as if sisters-in-law are getting closer as time goes by, and they will choose to raise their children together! The members of the Royal family are famously close, and it is good to know that Baby Sussex will be a welcome addition