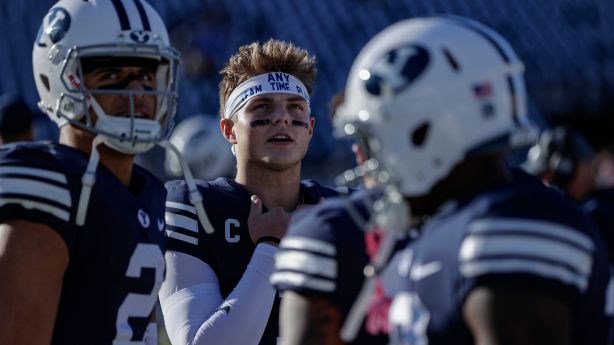 PROVO – In the first BYU game of a brawl, just minutes after the Cougars' defense forced Punt to open Saturday afternoon's football game, Zach Wilson hit Gunner Romney with a 50-yard bomb.
Trendsetter.
Wilson continued his steady rise, throwing in 212 yards and four touchdowns, Dax Milne caught four assists for 101 yards, and Tyler Allgier escaped for 141 yards and two results – all in the first half – as number 8 BYU went to 66 14 victory over the enemy at FCS North Alabama in front of the mostly empty LaVell Edwards Stadium on Saturday afternoon.
Kavika Fonua caught three assists for 32 yards and two touchdowns and added 36 quick yards for the Cougars (9-0), while reserve defender Baylor Romney made 7-of-8 passes for 64 yards and the score as BYU exceeded 400 yards for a foul for the fifth consecutive game with the second consecutive game of 500 yards for the year.
This story will be updated.
Summary of results
First quarter
12:08 – BYU: Isaac Rex, 2 yards pass from Zack Wilson (Oldroyd's kick)
4:32 – BYU: Tyler Allgier, 2-yard run (Oldroyd's kick)
Second trimester
13:24 – BYU: Allgeier, 2-yard run (Oldroyd's kick)
6:39 – BYU: Neil Pau, 19-yard pass from Wilson (Oldroyd's kick)
2:59 – BYU: Rex, 3 yard pass from Wilson (Allroyd kick)
1:37 – UNA: Ja'Won Howell, 2-yard run (Easterling kick)
0:40 – BYU: Kavika Fonua, 22-yard pass with a shovel from Wilson (Oldroyd's kick)
Third trimester
10:50 – BYU: Fonua, 7-yard pass from Baylor Romney (Oldroyd's kick)
0:01 – BYU: Miles Davis, 6-yard run (Oldroyd's kick)
Fourth quarter
12:09 – UNA: Jacobi Bird, 29 yard pass from Rett Files (Easterling kick)
3:38 – BYU: Jake Oldroyd, 53-yard field goal
2:36 – BYU: Davis, 26-yard run (Oldroyd's kick)
Final – BYU 66, North Alabama 14
×
Photos
Related links
More stories that may interest you
Source link