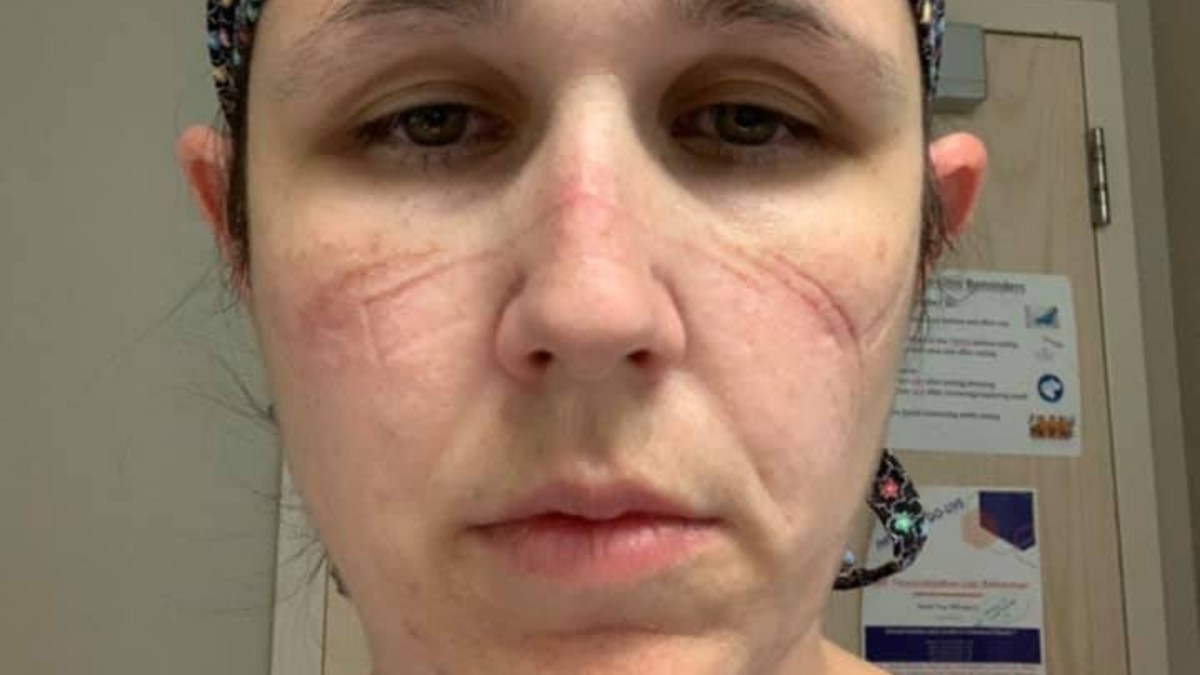 A woman from the suburbs of Chicago shared her "unfiltered experience as a COVID ICU nurse" on Facebook over the weekend, and her words resonated with many as the coronavirus pandemic resurfaced in Illinois and across the country.
Carol Williams, a nurse at Aurora, wrote a request to her followers on social media "just to stop."
"Stop thinking it's just like the flu, it's not. Stop telling me the survival rate, so it's not a big deal, it's a big deal. Stop saying that health workers signed up for it, we don't." , Williams wrote. "Stop ignoring the scientifically based recommendations for camouflage, social distancing, hand hygiene and not gathering in large crowds, they work. Stop joking that it won̵
7;t affect you or someone you love or know, it will. . "
Williams writes that when asked about her views on the pandemic, she gave people her "unfiltered experience as a Covid nurse in the intensive care unit."
"No one wants to believe that this is happening in his own backyard, but it is and is not beautiful," she said in a statement.
The post includes a photo of Williams, rows of PPE still engraved in her face, which she says shows her, "after spending five hours in a positive Covid Intensive Care Unit working to rescue a patient."
"At that moment, I felt defeated because I already knew what the outcome would be, even though it hadn't happened yet," she wrote. "The inability to save a patient, even though you do everything you can, is mentally exhausting. Now imagine doing it over and over for 8 months and counting."
She shares crying with patients because reality determines that "death is a real possibility", as well as sitting with them while they call or video chat with relatives before being placed on a ventilator as a last resort.
"Imagine you are a nurse or doctor holding the same patient's hand and stroking it on the head weeks later until their ventilator is removed because they have not improved and then their family says goodbye and I love you in FaceTime as they take their last breath, "she wrote. "PLEASE, PLEASE IMAGINE YOU BEING A PATIENT OF KOVID ICU. Shortness of breath, pain, fear, loneliness, isolation, anxiety, hopelessness and sadness. The need to use all your energy just to breathe. Real realization can not. improve and stand up we do our best to allay fears, calm down and connect, while providing the best care we can in the most vulnerable moments.Until all measures are taken whether you are hospitalized with Covid or any another disease. "
Williams, whose post has been shared hundreds of times on Facebook, is one of many health workers who sounded the alarm during the latest outbreak of the virus.
Last week, a group of doctors and health officials in Illinois warned that an analysis of Illinois coronavirus data showed the state could "exceed the capacity of its intensive care unit bed by Thanksgiving" and deaths a day could peak. until mid-December.
"We are better at identifying and treating this disease and the survival rate has improved slightly in patients with COVID-19 since the onset of this pandemic. This is good news, but it has not changed the overall trajectory and danger of the pandemic," the group said. wrote. "COVID-19 hospitalizations in Illinois have doubled in the last three weeks, which is a very dangerous trend."
The group of doctors said the predominant hospitals would be forced to take care of those with other "unforeseen emergencies, such as heart attacks, appendicitis, cancer diagnoses and motor vehicle accidents."
"When hospitals reach capacity, if doctors and health professionals lack hospital beds to treat people, mortality will increase among all seriously ill patients," the group wrote.
Illinois Gov. JB Pritzker said Tuesday that some health regions in the state have seen more than three times the number of hospitalizations with coronavirus than in the first wave of the virus earlier this spring.
Northwestern Medicine has already introduced a growth plan, along with restrictions on visitors. Mount Sinai Hospital in Chicago has rebuilt its COVID circles and its incident command center.
Both Amita Health System and Advocate Aurora are re-introducing strict visitor-free policies as they deal with a total of 1,000 cases in their systems.
The number of hospitalizations regularly lags behind the growing number of cases, and this is happening in Illinois. The number of cases began to increase in mid-October, along with a drastic increase in positivity, and hospitalizations did not lag behind as the number of residents hospitalized for the virus tripled almost from October 1.
"We will have to come up with some creative solutions to make sure everyone has a bed, whether it's for COVID, whether it's a flu-like illness or a car accident, or a heart attack. This is a very inevitable problem, "said Dr. Ngozi Ezike, director of the Illinois Department of Public Health.
Williams concluded his message with a final request to readers.
"Please do not lose any more lives lost or affected by this pandemic," she wrote. "We need to come together as a state, NOW. We need to work together, NOW."